No Athlete Has Dominated Their Sport Like Tiger Woods
682
That's the number if weeks that Tiger Woods has been ranked the #1 golfer in the world over the course of his career. He achieved his first #1 ranking on June 15, 1997, and he most recently held the title on May 11, 2014.
Wow!
Over that 882 week span, Tiger was the best golfer in the world 77% of the time. He won the yearly top ranked player award 12 times. If you eliminate his injury-plagued 2011 season, his average rank was 1.25. And if you look at his sheer performance compared to his peers, Tiger Woods holds 8 of the 9 best seasons in PGA tour history.
And Tiger wasn't just barely the #1 ranked golfer all this time, he was dominant. For fun, here's a chart of the top 10 ranked golfers from the year 2000[1].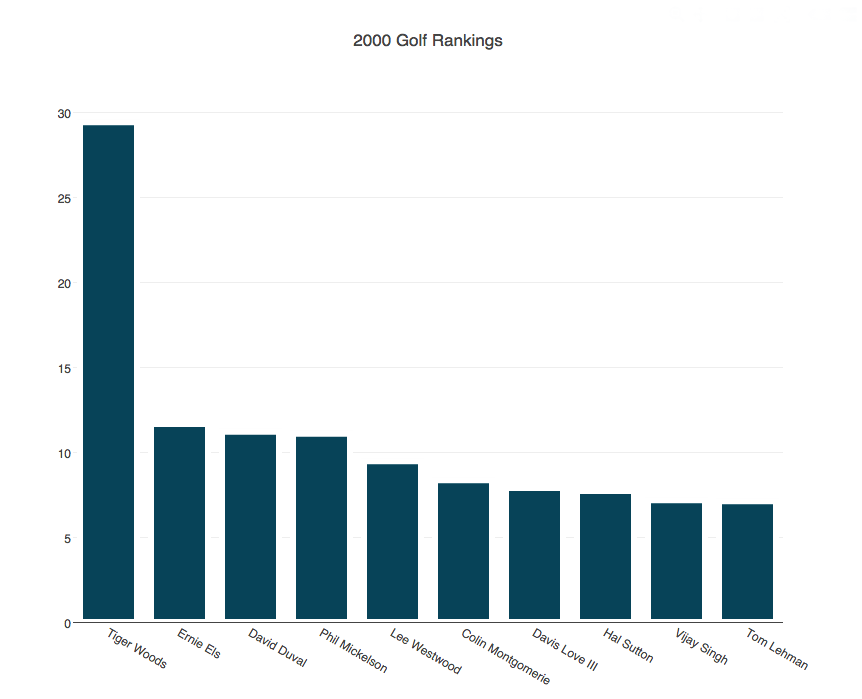 The biggest stat in golf is how many Major championships a player has won. Tiger Woods (14) is second all-time, behind only Jack Nicklaus (18). Despite being a runner up in this category (and the odds of him winning many more is quite unlikely), this stat is made more impressive when you consider that Jack Nicklaus took 25 years to win his majors. Tiger took 11 to almost match that total. If Tiger had been able to keep up that pace, he would have won 30+ majors in the same time span as Nicklaus.
To put those Major numbers in perspective, the next winningest golfer who has won a Major in the past 20 years is Nick Faldo: he's won 6.
Finally, Tiger Woods has won 79 PGA tournaments over his career. He's second only to Sam Sneed, who won 82. Again, Tiger reached this number much faster, as he won basically as many events in 18 years has Sneed did in 30.
Again, the next winningest golfer who has won a tournament in the past 20 years is Phil Mickelson, who has 42. It's not even close!
---
I write this messy article after just seeing that Tiger Woods is currently ranked #111 in the world. So far in 2015 he has missed the cut in the Phoenix Open and withdrawn from the Farmers Insurance Open. Tiger is currently halfway through the Masters and is ranked 13th so far. Meanwhile, Jordan Spieth is making headlines for breaking the 38 hole scoring record which has stood for 39 years and Dustin Johnson set a tournament record for most eagles in a single round. Not to mention Rory McIlroy who is on a 39 week streak as the new #1 golfer in the world. A new guard has come in, and Tiger, still just 39 years old, will continue to play for many years, but his fire is out.
For a solid decade, Tiger Woods was the most dominant athlete in the world and completely transformed his sport. For my moeny, there has never been an athlete who dominated their peers as hard as Tiger Woods.
---
For reference, the typical gap between #1 and #2 in this ranking is 1–3 points. The only year that came remotely close was 1992 where Nick Faldo mustered a 7 point lead.  ↩