My Camera and Lens Setup for YouTube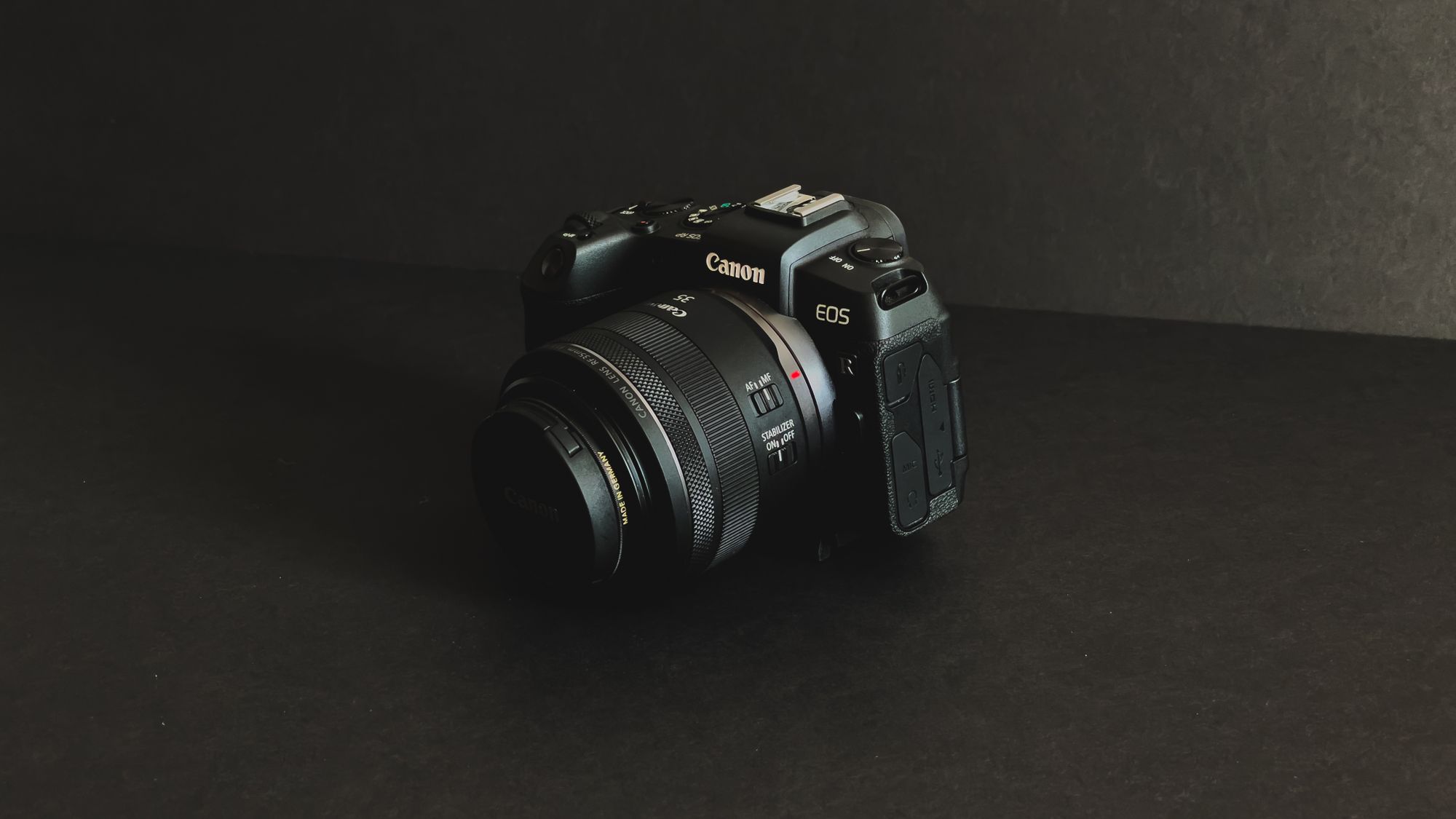 A little over into a year of doing YouTube, I've invested in the channel a good amount, in terms of time, energy, and money. On the money front, the biggest single investment by far has been my camera.
When I started the channel, I didn't expect to do any on-screen stuff, but I soon realized how beneficial it was, so I shot with my iPhone and the only dedicated camera I owned, a 2014 Sony RX100 III. Neither was great, and while I eventually figured out how to get okay footage from the Sony, I was never happy with it.
Then one day in March 2021 I decided I needed to decide how serious I was about this YouTube thing, and if I was actually serious, I needed to up my production game. Yes, yes, yes, content is king, and maybe I'd be equally successful if I shot everything on my iPhone, but I just don't like how iPhone footage looks for the sort of content I create.
The Camera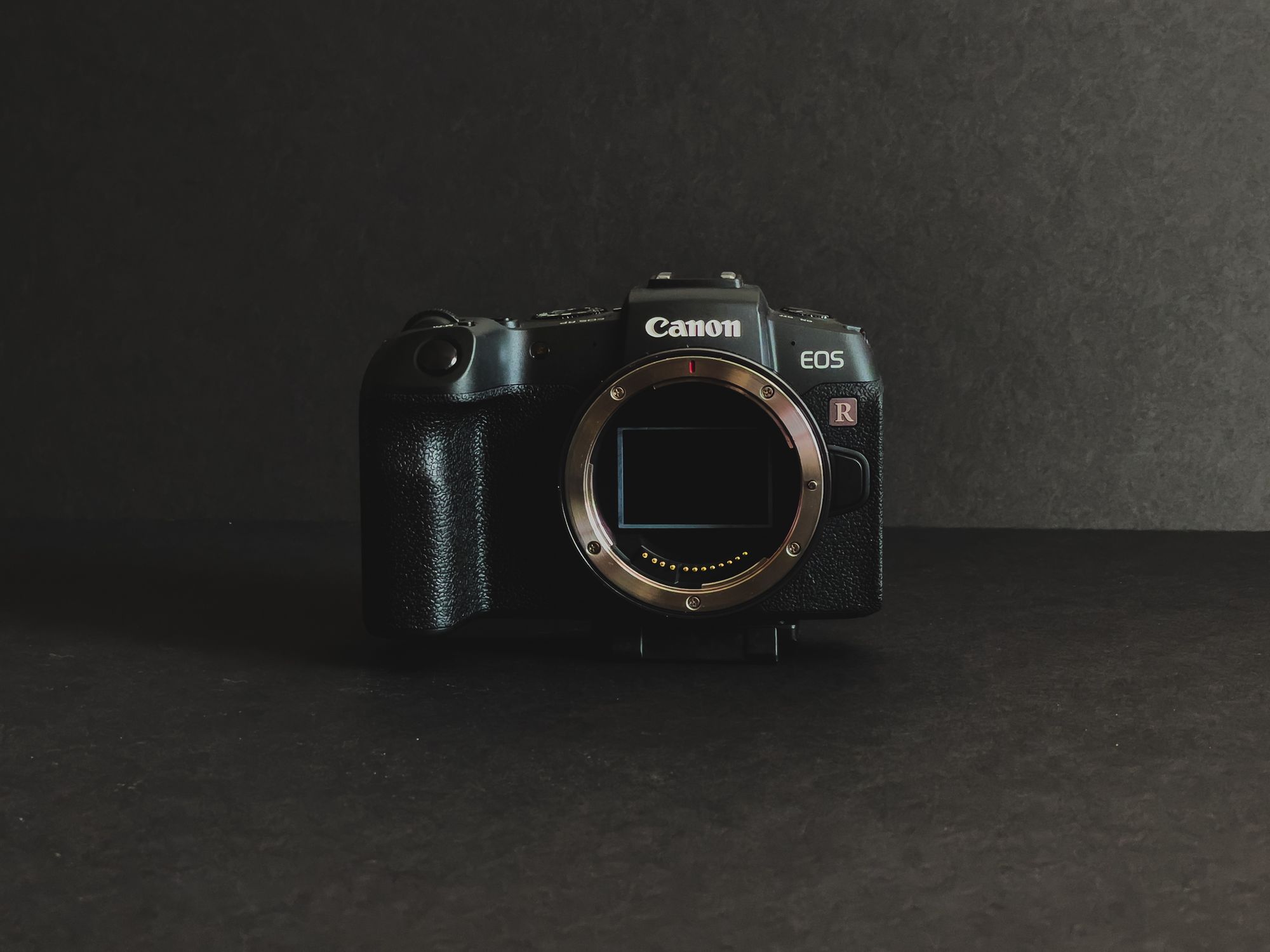 I ended up getting the Canon EOS RP for a few reasons, but ultimately it was a matter of 4 things:
It was a full frame mirrorless camera.
Canon's "color science" seemed well regarded.
It used Canon's new RF mounting system.
The price was attainable (although definitely not cheap).
Could I have gotten something better? Maybe, but I'm quite happy with it and it seemed to check all my boxes for quite a bit less than other options. Now the raw total is still a bit over $1,000, but in the world of full frame mirrorless cameras, that's next to nothing.
I think this does great as a 1080p camera, and it does a great job getting good colors out of the box. The biggest limitations in my book are twofold:
It's shit at 4K. There is a 4K mode, but it's limited to 24fps, it crops way in on the sensor, and autofocus may as well not exist.
There are no frame rate options over 60fps.
As such, I almost never shoot 4K and you won't be seeing any super-slow motion on my channel. This isn't a huge deal, as I wrote recently, most things you think are 4K aren't actually 4K right now, but I do wish that I could grab a little more detail from my shots without compromising so much.
One the photography side, this has a 26MP sensor which collects a ton of data with little noise compared to what I'm used to. For a comparison, here's a zoom in on a shot I took with the iPhone 12 Pro vs the Canon: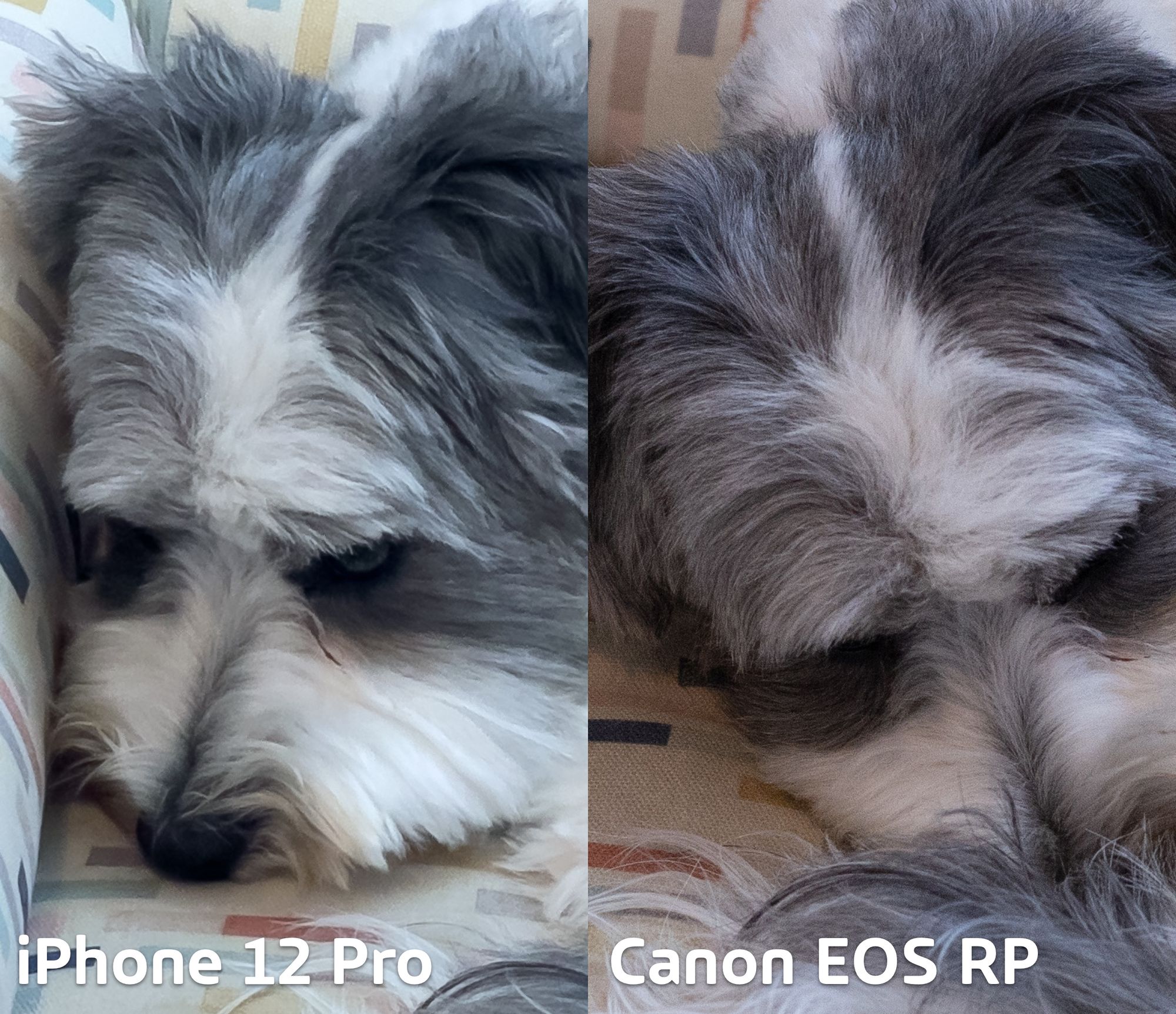 All in all, I'm happy with this camera body and expect to use it for years to come.
The Lens
Now, just as, if not more important than your camera is the glass you put in front of it. I'll remind you I'm not looking to spend numerous thousands of dollars on this setup, so I initially tried to use the kit lens that came with the camera. That's the Canon RF 24-105mm F4 L IS USM.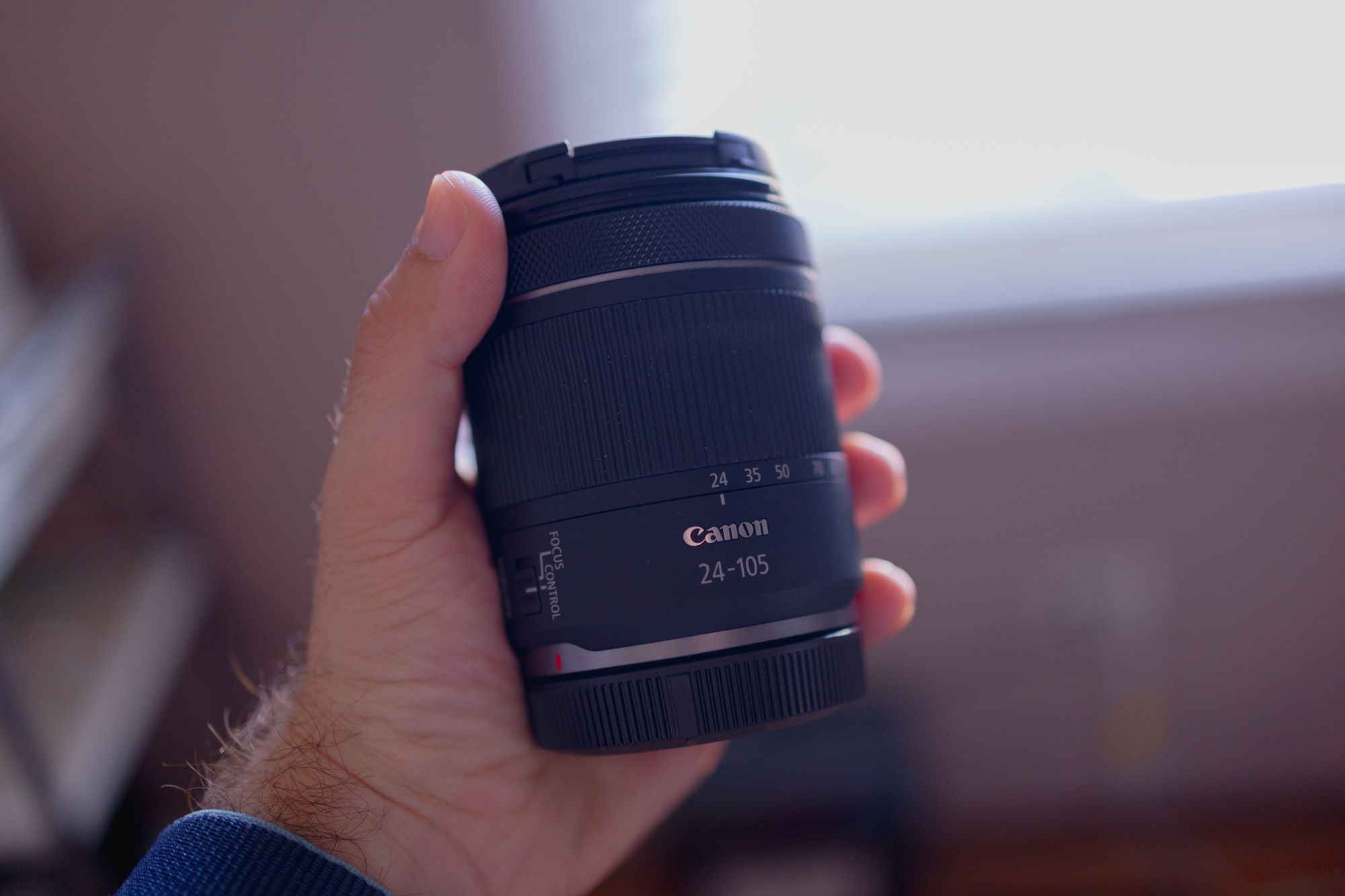 It's decent, but really excels in well-lit situations, which my office is very much not. I used it for a couple months before recognizing that I needed to get a better lens to get the look I was really going for. I rented the Canon RF 35mm F1.8 Macro IS STM from LensRentals.com and ended up keeping it.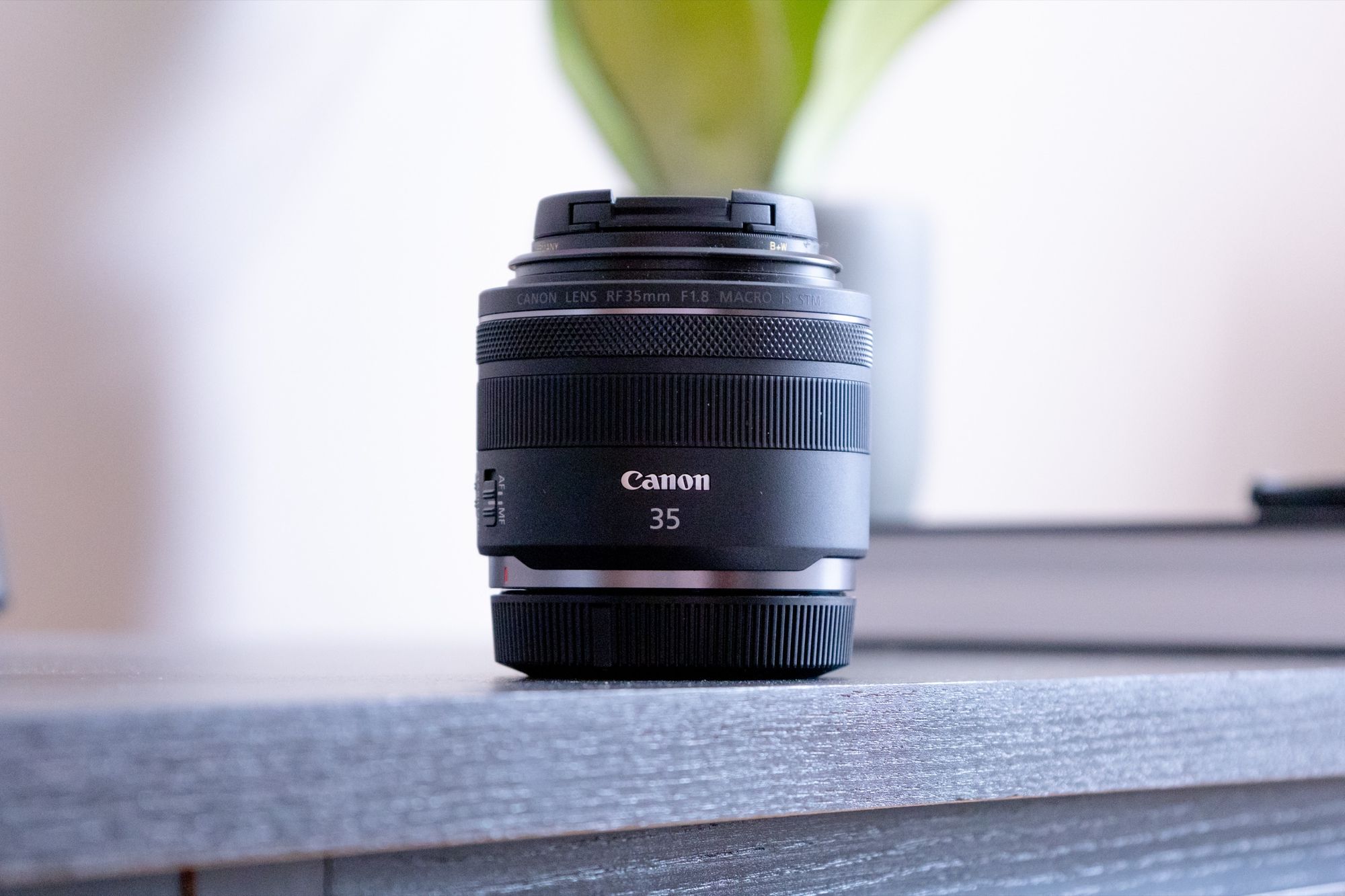 35mm is a good focal length for me, although I'd love to get something a little wider since I am often filming in a small space, and the improved clarity of the footage it produces is instantly noticeable. While I was previously struggling to get enough light into my office, suddenly I now find myself having to limit light in some cases, which is a wonderful problem to have.
Hopefully the results speak for themselves, and while you won't mistake my video as coming from some 8K RED camera or anything, I do think it looks better than your average YouTuber. A good amount of this is due to lighting as well, but this is a gear post, not a lighting tutorial, so that'll have to wait for another day.
Recommendation
I should be very clear in saying that I don't think most people really need a camera this substantial, nor do I think this is the right "big boy" camera for everyone. Some will prefer Sony or other brands, while others will look at my needs and know of another camera that I would be even happier with. This post is meant to simply share what I'm using myself, not what I think anyone else should buy.
That said, I'd love to hear what other people use, so let me know on Twitter or follow me on Glass. I'm @mattbirchler in both places ✌️