Wyze Watch: My Review of the $20 Smart Watch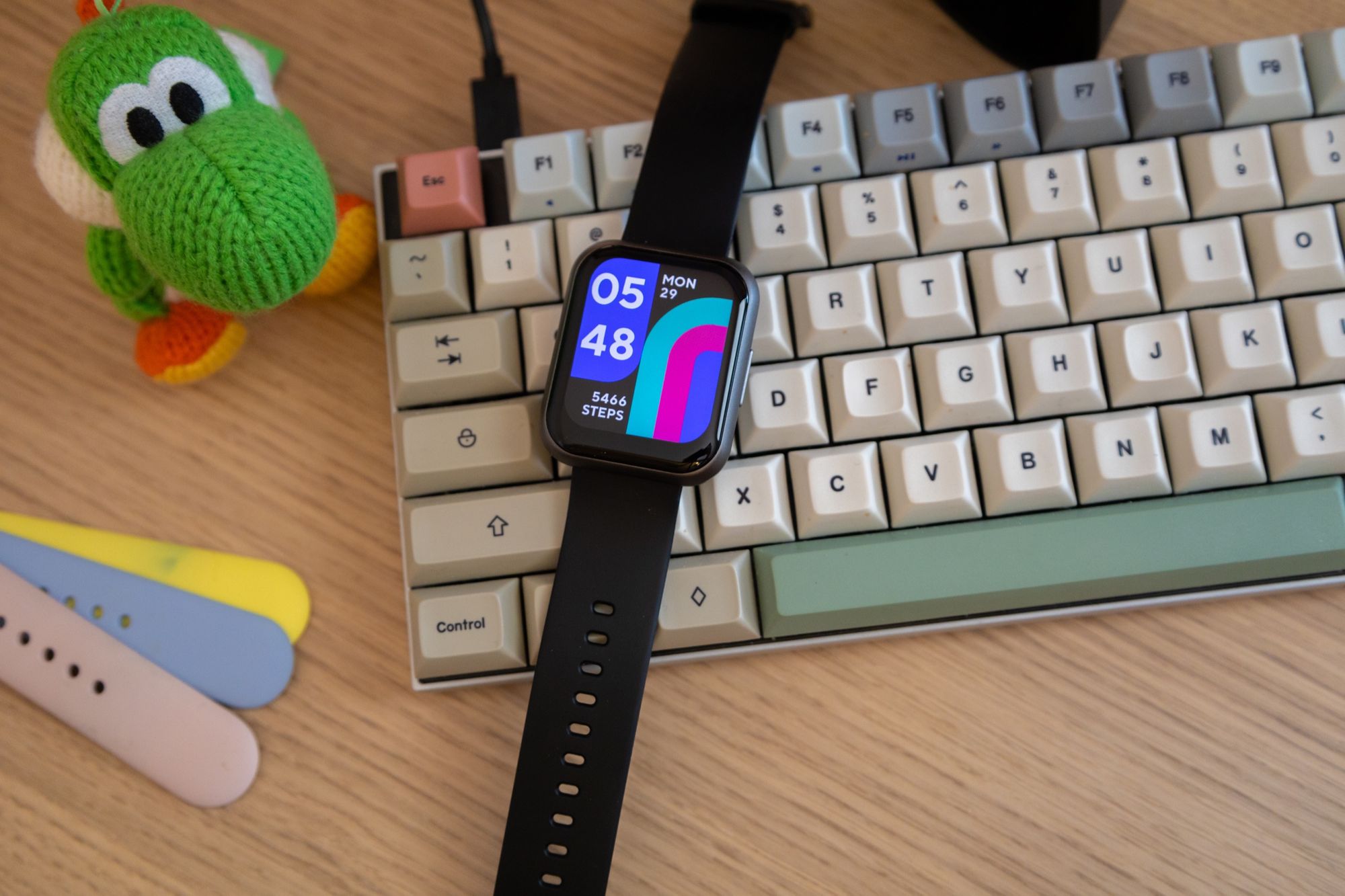 This was produced as a video, so please watch that if you can, but I've included the script below  for those who prefer to read their reviews.
Intro
If I told you this watch had fitness tracking, a heart rate monitor, blood oxygen sensor, IP 68 water resistance, iOS and Android support, was made of metal, and had a 9 day battery life…how much would you expect to pay for that product?
How does $20 sound?
This is my review of the Wyze Watch, an absurdly priced smart watch. Like really, the Apple Watch I wear every day costs $800. I could buy 40 of these Wyze Watches for the cost of this one Apple Watch! Now of course there are cheaper Apple Watches, but this is still 1/14th the price of the Apple Watch SE.
So while I could go on and on about how this product rips off the Apple Watch in terms of design and UI, that's not going to be the focus of this review. The Apple Watch is far more capable, has far better build quality, and is a far better experience in most ways for most people.
With that out of the way, let's take a look at what you get from the Wyze Watch for $20.
First Impressions
First impressions are a little rough, and the $20 price tag is clearly felt right away. The included watch strap is cheap rubber that collects sweat like crazy, and I thought the body was made of plastic until I read the product sheet which insists it's aluminum. I also noticed immediately that the display is off center, with a pretty substantially bigger bottom bezel than top.
None of the is the end of the world, but if your question going into this product was "how is it possible this is so cheap," then you get your answer before you even start using the thing.
The setup process is relatively easy, as you just need to install the Wyze app on your phone and add a new device. It will autodetect the watch nearby and pairs in less than a minute. The QR code that greets you when you first turn it on is pretty garish, especially compared to the more pleasant solution on the Apple Watch. This just takes you to the support page for the watch, so you don't even need to use it, but it's there if you need help getting started.
Let's talk about the features though. I'm going to hit on the watch faces, the apps, and general usability details of the watch.
Watch Faces
First, there are the watch faces, and honestly I don't think these are terrible.
They're not what I'd call classy, but they're all pretty fun. Watch snobs will surely scoff, but these are some bold watch faces that will definitely appeal to some people.
There are 10 styles to choose from, and 4 color combos for each watch face. You can only have 3 loaded on your watch at a time and they can only be managed from the Wyze app on your phone. Also, adding a watch face takes literally 2 minutes and your watch is out of commission that whole time, it's kind of weird, I'm not really sure why this could possibly take so long, but it does.
Also, there is no concept of customization with these watch faces. All of them show the time, but only some show the date, others show activity data, but you have no control over what shows on what watch face.
I think these watch faces are generally fun, but they're not going to be to everyone's taste.
The Apps
Unlike the other major smart watches out there, the Wyze Watch doesn't allow for third party apps, and you don't get to install or remove things to fit your needs. Instead, you get 9 apps and that's it.
Conveniently for me, that's few enough that I can go over each one quickly to give you an idea what's possible with this $20 watch.
First up is workouts, and app that starts a workout the moment you launch it and has no settings for what type of workout you're doing. It really seems designed for walking or running, though. It tracks your heart rate and pace as you go, and even syncs that data over to HealthKit, which is nice. It does not auto-detect workouts, nor does it auto-pause, and it doesn't notify you of time or distance milestones as you go. It's minimal, but it works.
Data is the next app and it was confusing to me at first since when you initially put on the watch this mysterious "Data" app just tells you there is no data. This is actually where you can see your step count and calories burned stats.
The blood oxygen app lets you take O2 readings just like the Apple Watch Series 6, and the numbers I've gotten from this as basically the same as my Apple Watch.
The heart rate app checks your pulse on demand and again seems pretty accurate. You can also go into the settings and have the watch check your pulse in the background every 5 minutes. All of this data gets synced over to the Health app on your iPhone.
The sleep app is fine as well, although I find it about as helpful as the Apple Watch's built in sleep tracking…which is to say not very…
Alarms are what you'd expect, and you can set a bunch of them easily.
Timers also work well, and you're limited to one timer at a time.
Shortcuts are an interesting idea, but I could not get them to work. Mostly they're ways to control your other Wyze accessories, which I don't actually own.
Weather is really basic but gets you the local temp, which is often enough. You can change the location in the Wyze app on your phone too, if you don't want it to use your specific location.
Build Quality and Software Experience
As you've probably noticed already, the watch is not slow, but the screen refreshes incredibly slowly. I measured it a few times and found it updates 5 times per second, which is actually worse than the best e-ink displays in e-readers today.
It also goes without saying that this watch does not have an always-on display, so you have to wake it by raising your wrist or by tapping the one button on the side. There is no tap-to-wake, which would have been nice to have here.
Critically, there is no ambient light sensor in this thing, so it's going to be the same brightness all the time. This isn't a huge deal, but I found the medium brightness to be best most of the time, which made it a little hard to see outdoors, and blindingly bright in a dark room.
On the plus side, it has that feature the Apple Watch has too where you slap your palm on the screen to turn it off, which I like a lot.
You may have noticed I have not entered a passcode at any point in this video, and that's because the Wyze Watch has zero security and has no idea if it's actually on my wrist or not. This was actually kind of shocking, but yeah, the watch is 100% accessible by anyone who gets their hands on it, so I guess don't let anyone steal it.
Moving on to the UI, the Wyze Watch definitely borrows heavily from the Apple Watch, with a swipe down on the watch face bringing up notifications, swiping up to bring up a control center, and holding down to change the watch face.
These aren't terrible, and they frankly made it easy to get used to the new watch. It even has a find your phone button that will play a sound on your phone to help you find it if it's lost.
Notifications are hilariously bad. This is partly iOS's fault, but while the watch has pre-set categories for some notifications, almost everything I get comes from what they call "other" which is not particularly useful. You get the text of the notifications, but that's it, it doesn't even tell you what app sent them.
Oh, and if you like the stand reminders on the Apple Watch, then fear not, they're here as well in the form of stretch reminders.
Buying Advice
So that's what you get with a $20 smart watch. It's not that bad, right!? I mean on the one hand you're missing out on a lot of what makes something like the Apple Watch so great, and the user experience is simply far superior on Apple's watch, but this gets you constant heart rate tracking, fitness tracking, blood oxygen measurements, and notifications on your wrist for less that the cost of a lot of people's lunch, and that's worth a little praise at least.
But still, I don't think this is a good fit for everyone. The limitations of this device are pretty severe, so I'd look at this more as a smart watch for kids or for someone who wants just the basics and doesn't care about anything more than that. In fact, for adults it is probably more apt to call this a fitness watch that looks like a smart watch.