My Favorite Movies of 2022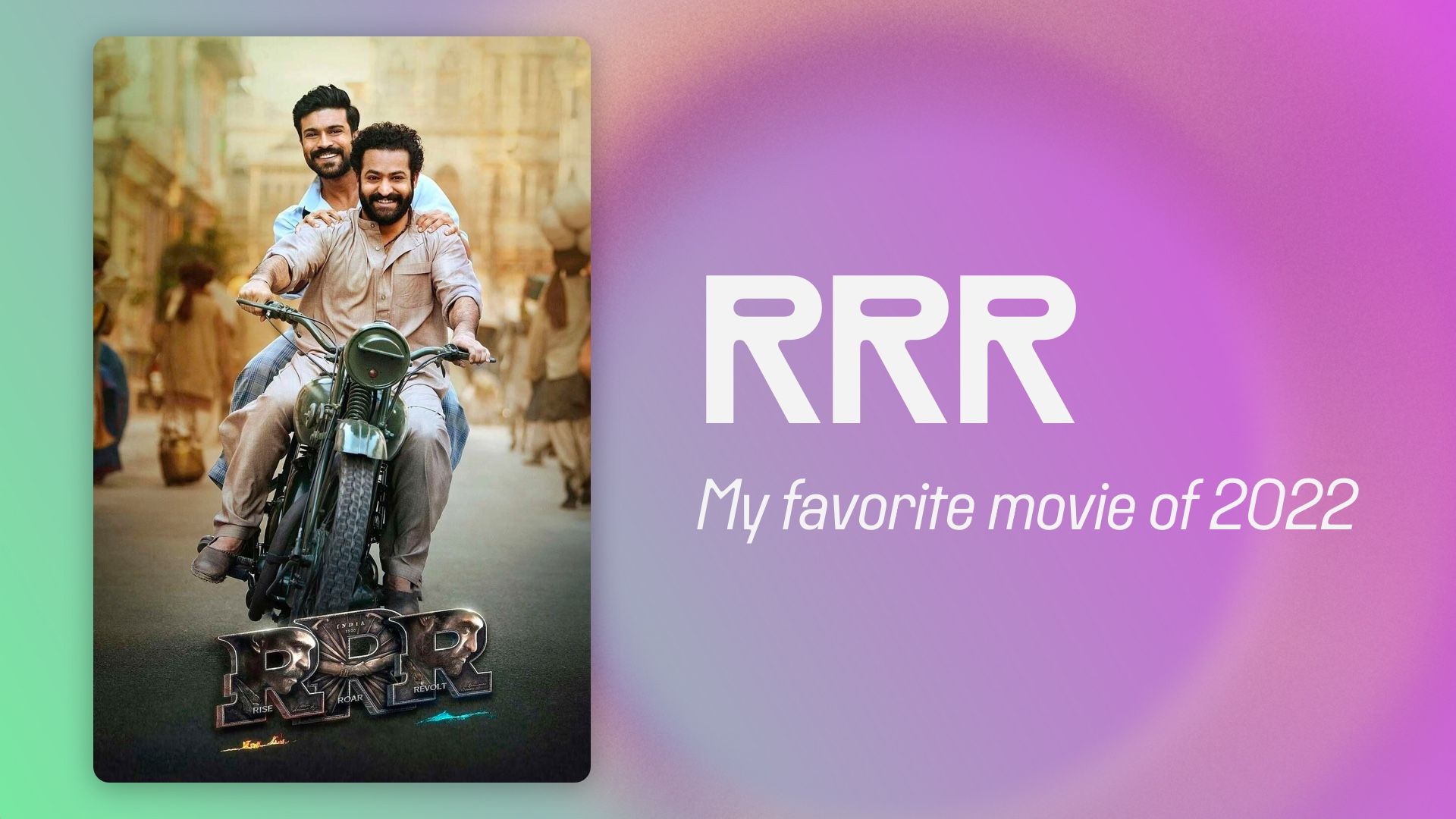 It's the day of the Oscars, and while I don't love the show like I used to, I do find it a good time to "call it" for the last year and make my list of favorite movies released in the previous year. It's a bit arbitrary, but I like it.
My Favorite Movie of 2022 was RRR
RRR blew me away and is the best blockbuster movie I've seen in ages. It's unabashedly big & loud, and it's an absolute joy. Surely someone in your life has told you that you really need to see this and you may have balked at the 3 hour runtime or that it's not in English (there's an English dub, if you want!), but I can not recommend this enough. Without question the best movie I saw in 2022.
The Rest of the Top 10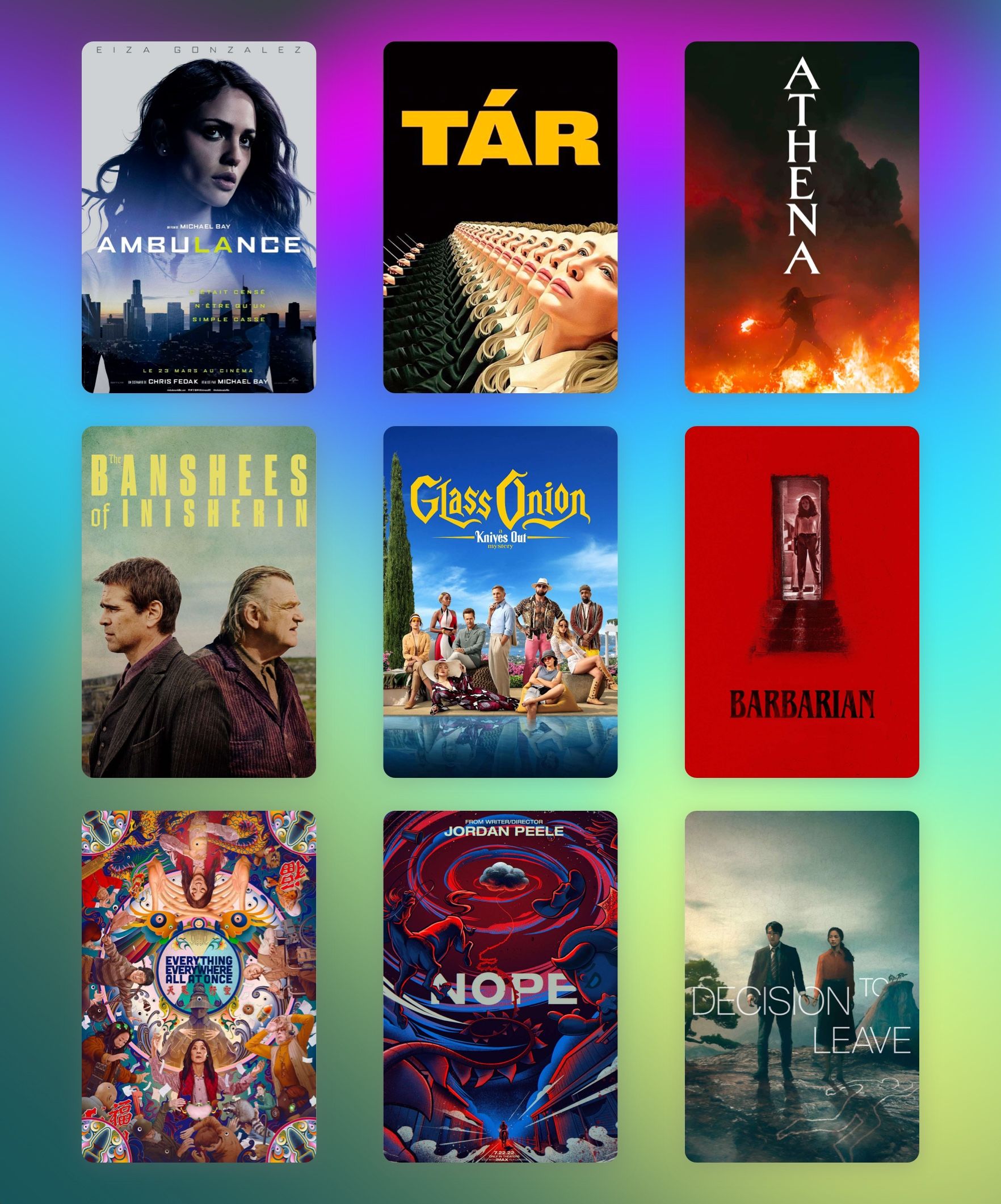 Everything Everywhere All At Once was incredible, and it's exactly the sort of weird, creative, and fun film I love to see raking in the awards. I hope this wins Best Picture tonight.
Banshees of Inisherin is one of the few films I watched twice this year. The premise is brilliant, and has the best, funniest performances of the year.
Tár is a fantastic journey that takes you along for the ride with a problematic artistic genius. Cate Blanchett soars in this one.
Ambulance is the first Michael Bay movie I've enjoyed since The Rock. Inspired, over-the-top performances, great action, and genuinely innovative cinematography elevates this one for me.
In a world of CG that can show us anything, Athena proves that it's still possible to create something that makes people go, "how the hell did they even do this?!"
Likewise, Decision to Leave also astounds in filmmaking that goes incredibly hard for what is ultimately a police procedural.
Glass Onion shows once again that Rian Johnson is one of the great filmmakers of our generation and that I will watch as many of these Knives Out mysteries he and Daniel Craig want to make.
Barbarian had the best cut of the year (if you saw it, you know what I'm talking about), was actually scary, and felt like a bright spot among a bunch of other uninspired horror flicks in 2022.
Nope is the third film from Jordan Peele and this guy just does not miss. In my opinion, Get Out, Us, and now Nope complete one of the finest first three feature film runs of anyone in history.
Honorable Mentions
Although I didn't include these in my top 10, there are a few other films I think are great and you should check out.
Watcher
Top Gun Maverick
Pearl
Turning Red
Prey
Men
Emily the Criminal
The Unbearable Weight of Massive Talent
Things I Missed
Despite my attempt to watch everything, I still haven't seen a few movies that could have broken into this list as well, I just haven't seen them yet.
The Whale
The Fablemans
EO
Avatar: The Way of Water
Return to Seoul
Puss in Boots: The Last Wish
The Sea Beast
Aftersun
Biggest Letdowns
As ever, there are a few films that I found particularly disappointing. These aren't the worst movies, but they were the ones that I was excited for but left me feeling very blah. Odds are that some of these will make you go "that was great!" which is exactly why I was so excited!
The Pale Blue Eye
See How They Run
The Northman
The Menu
Confess, Fletch
Triangle of Sadness