Thoughts on the New MacBook Pros
Oh man, do I wish I had $3,000 to throw at a computer right now…
These machines look insanely good and I'm jealous of every Mac user who's been waiting to get a new Mac until now because you just got yourself a doozy of an update.
3x CPU performance from one generation to the next does not happen and it's wild to see it at the high end of Apple's devices. This truly felt like Apple being able to finally unleash the power of these computers in ways they never could with Intel.
But that's just the tip of the iceberg, of course, as GPU performance is insane and battery life is way better to boot. Plugged in or not, these machines look to be redefining what we expect from high end mobile computers. Just like the M1 made us think about entry-level devices differently, the M1 Pro and M1 Max likely have Intel and AMD reeling right now. Maybe Apple oversold it in their presentation, but based on how well the M1 performed compared to the competition, I am inclined to believe these new chips absolutely scream.
The SD card reader alone made me want to buy this computer to replace my Air immediately. This is what my computer looks like when I need to import images/video from my modern Canon camera: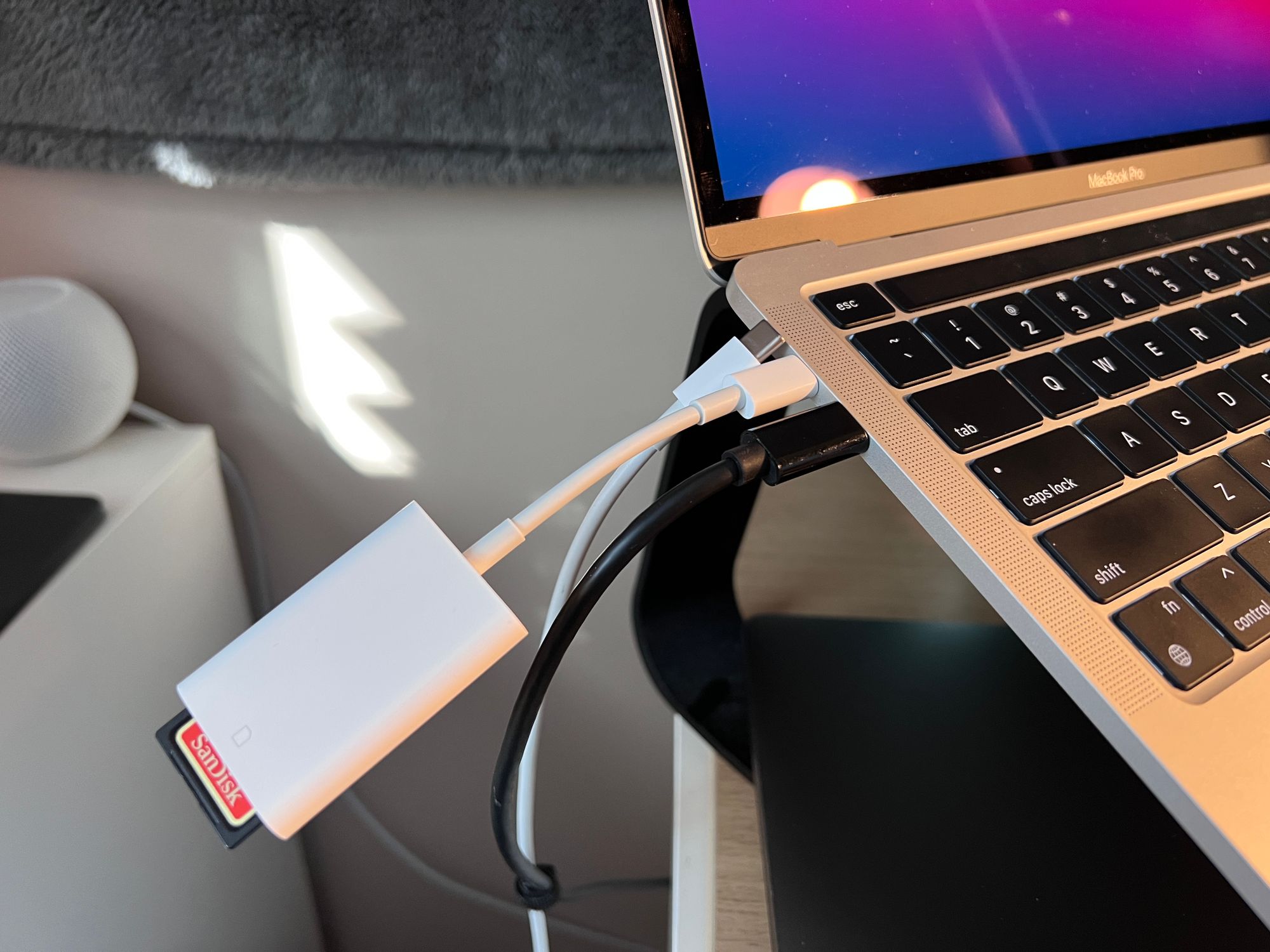 Wow, so modern, right? The fact I can just plug my SD card into these new MacBook Pros without unplugging my power cable is a revelation (even though it really shouldn't be).
If you can't tell, I'm very happy about the port situation on this computer. The HDMI port won't help me, but clearly Apple had data showing them that it would help lots of people, so I'm glad to see it back as well.
Moving past power and connectivity, I'm even impressed with the design of the laptops overall. The body looks a bit chunky in photos, but the 14" model is the exact same thickness as the current 13" Pro, so it's totally thin enough in my book. The two marks against them are:
I'd love to see other colors besides gray and silver (black? blue? Let's have some more fun!).
The notch is not ideal. It's not a travesty or anything, and I think it will likely be fine, but I don't like it. If I ever got one of these, I'd use it in clamshell mode much of the time anyway, so it would mostly be a non-issue for me, so I'm not getting worked up about it.
Overall, I love these machines, and for the first time in a long time, it feels like there's a Mac I can get excited about as the iPad Pros Apple has been releasing over the last several years. ProMotion, mini-LED, instant wake, ability to run iOS apps, more performance than you know what to do with…these have been great on the iPad for years, and I'm so happy to see my more Mac-centric friends get to see those benefits in what look like some really awesome computers.