My Favorite Things of 2021 (Birchtree Besties)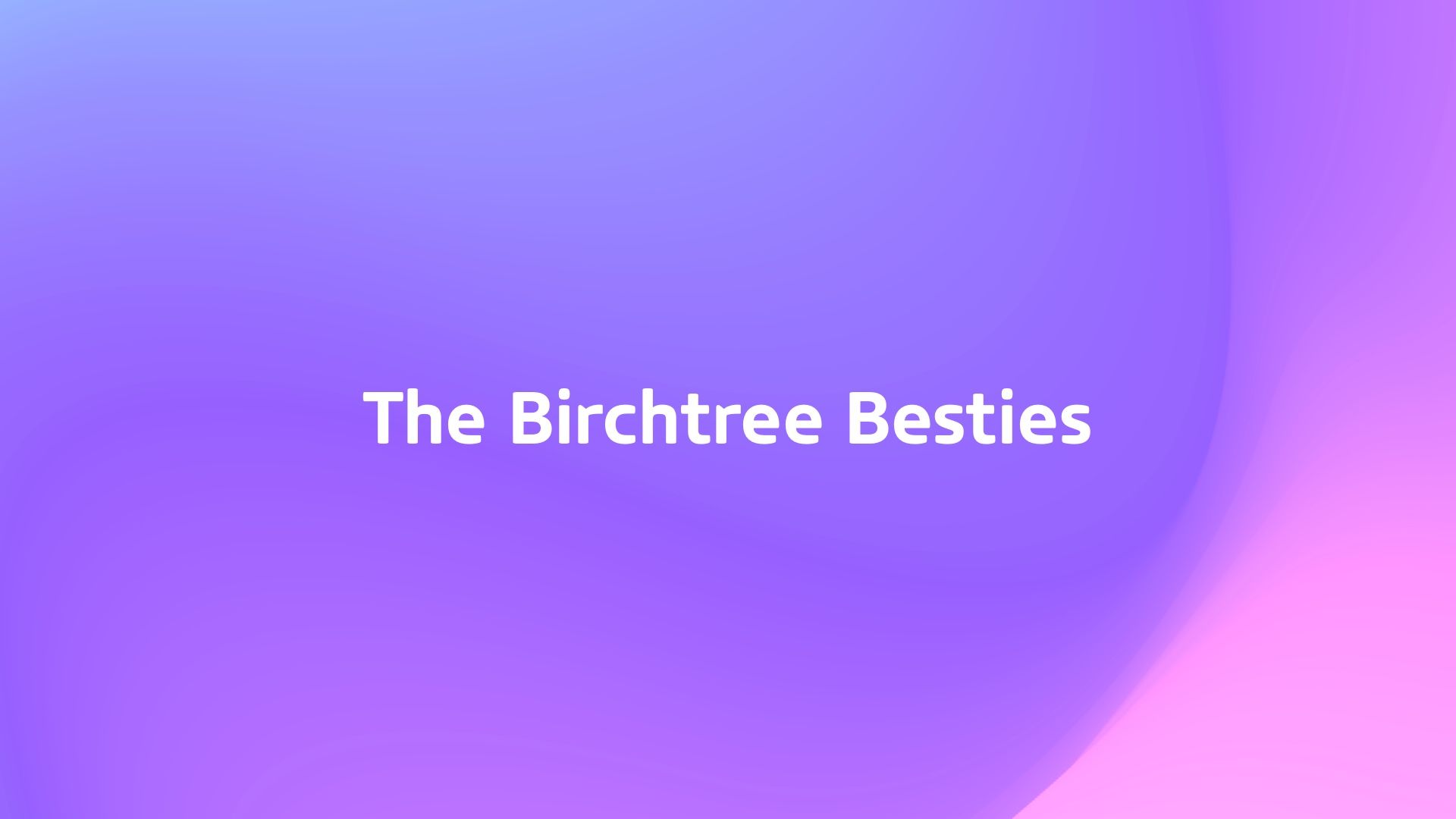 This was going to be a short post, but here we are and I've got almost 2,000 words on my favorite things of the year. If nothing else, let this be a time capsule of what entertainment I enjoyed in 2021.
Also, check out The Dent for another solid list that inspired me to get going on this one.
Apps
Video Games
Tech Products
Books
Movies
TV Shows
Music
Podcasts
YouTube Channels
Tweet of the Year
Newsletters
---
Apps
I don't even know how to narrow it down, I've truly found so much good stuff this year, but a few items stand out to me.
Things

Things continues to be my go-to task manager of choice. I even ventured into Todoist for a few weeks recently to see if I was missing out on something. Turn out the answer was no, Things continues to be bar-none the best task manager out there for my needs.
Thing to add in 2022: An API.
Matter

Matter is absolutely brilliant, and it's actually made me read more than before, even months after the honeymoon period wore off.
Thing to add in 2022: A web app.
Mimestream

This simple mail app for macOS is the Mail app Apple should be making, but seemingly won't. It's native, fast, and syncs faster and more reliably than any app I've ever used. Spark is closest on iOS/iPadOS, which is what I use there.
Thing to add in 2022: An iOS app.
Pastebot

Few apps on my computer bring me more value than Pastebot, and while I don't even know if it was updated this year, it's a super-clean, super useful clipboard manager and I swear by it.
Thing to add in 2022: Nothing, just keep being reliable.
Sketch

I had let my Sketch license lapse for a while, but the company added some much-needed cloud features this summer and they sucked me back in. Figma is still eating their lunch when it comes to collaboration in teams, but as someone working solo, Sketch scratches my itch.
Thing to add in 2022: Web editing.
Craft

Good lord, what a year one! I've mostly watched Craft from the sidelines as it never quite clicked with me (even though I knew it was super well made), but their recent 2.0 update with extensions changed the math for me, and I'm really looking forward to seeing what they do next year.
Thing to add in 2022: Deliver on the promise of extensions.
Fantastical

Full disclosure, I've promoted Fantastical in the past, but this spot isn't bought by them. Take this listing as you will, but hopefully you can trust me.
In year two of working full-time remote, a reliable, beautiful calendar that helps me get into meetings in no time is super useful, and no other app even tempted me this year.
Thing to add in 2022: More business-focused features, including support for either Windows or the web.
Notion

What more is there to say about this app? I manage my entire YouTube channel and all my other freelance work from this app. It's flexible, beautiful, and free for what I need.
Thing to add in 2022: Better iOS and iPadOS apps.
---
Video Games
I'm going to skip this section and just suggest you watch this list.
---
Tech Products
Ultimately, it's just two products that I really want to shout out here.
First is the Canon EOS RP, which is Canon's entry-level full-frame mirrorless camera, and while it's not the best camera money can buy, it was the best camera my money could buy, and it's served me incredibly well since I got it in March. I've filmed over 100 videos on it and shot thousands of photos, and I'm so happy with it! I've got it paired with Canon's 35mm macro lens and it's bokeh-licious and super crisp, and I look forward to much more time with this camera going forward.
The other thing that blew me away this year was the 14" MacBook Pro. All I'll say here is that this is exactly the computer Apple would have made me if they let me custom-build a machine. The display and port situation are worth the cost to me on their own (after trade-in, of course) and it's just made my YouTube production more seamless. I still use an iPad Pro for most things, but when it comes to video, nothing beats a MacBook Pro.
---
Books
I post these regularly on Twitter, so I'm going to share images of the books and their short reviews below. John Green's The Anthropocene Reviewed was probably my book of the year, and nothing else made me feel so generous and happy to be alive after reading it.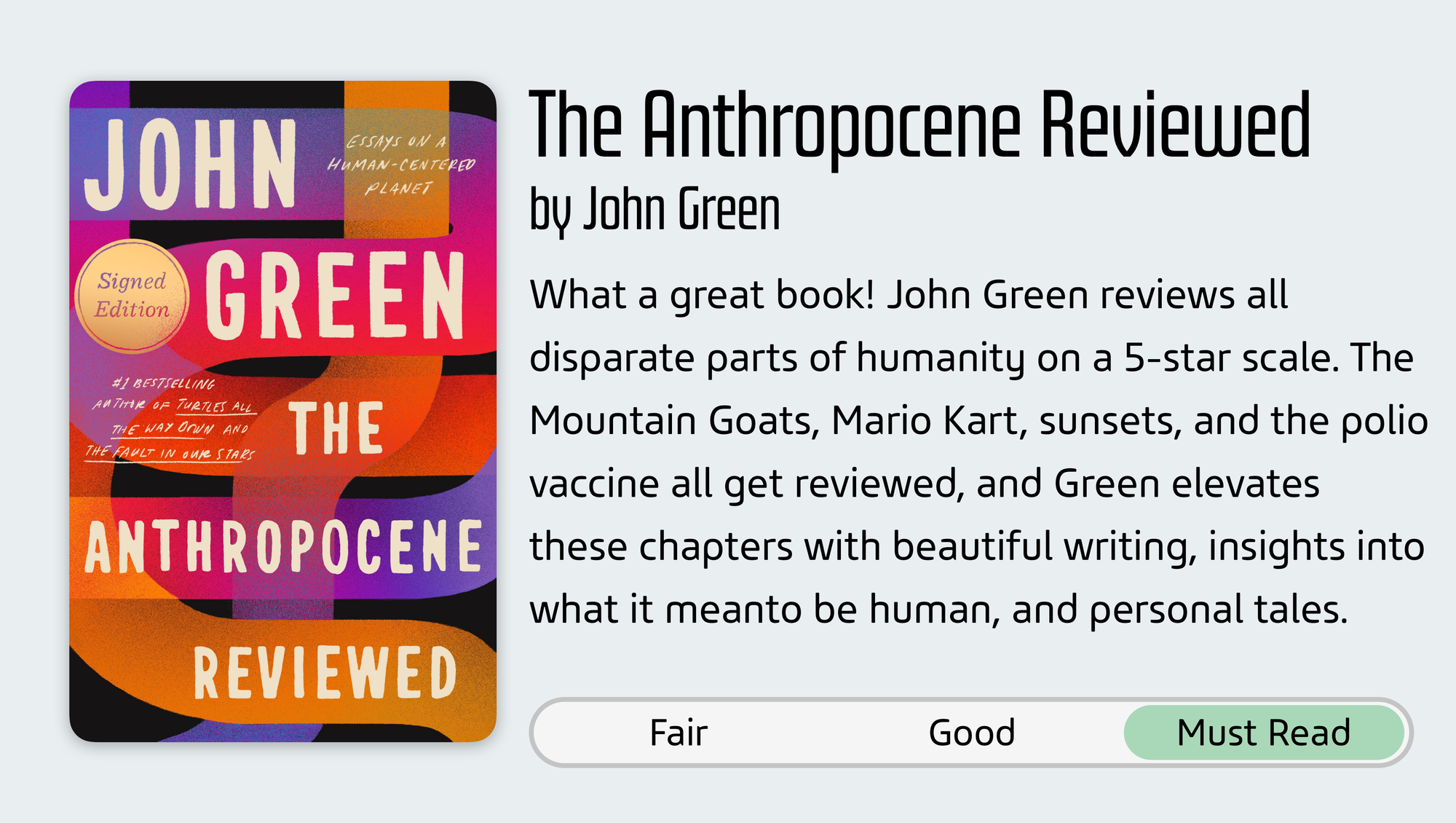 That said, The Data Detective might be a close second, as it's massively helpful in looking at information critically; a skill that's more important than ever it seems.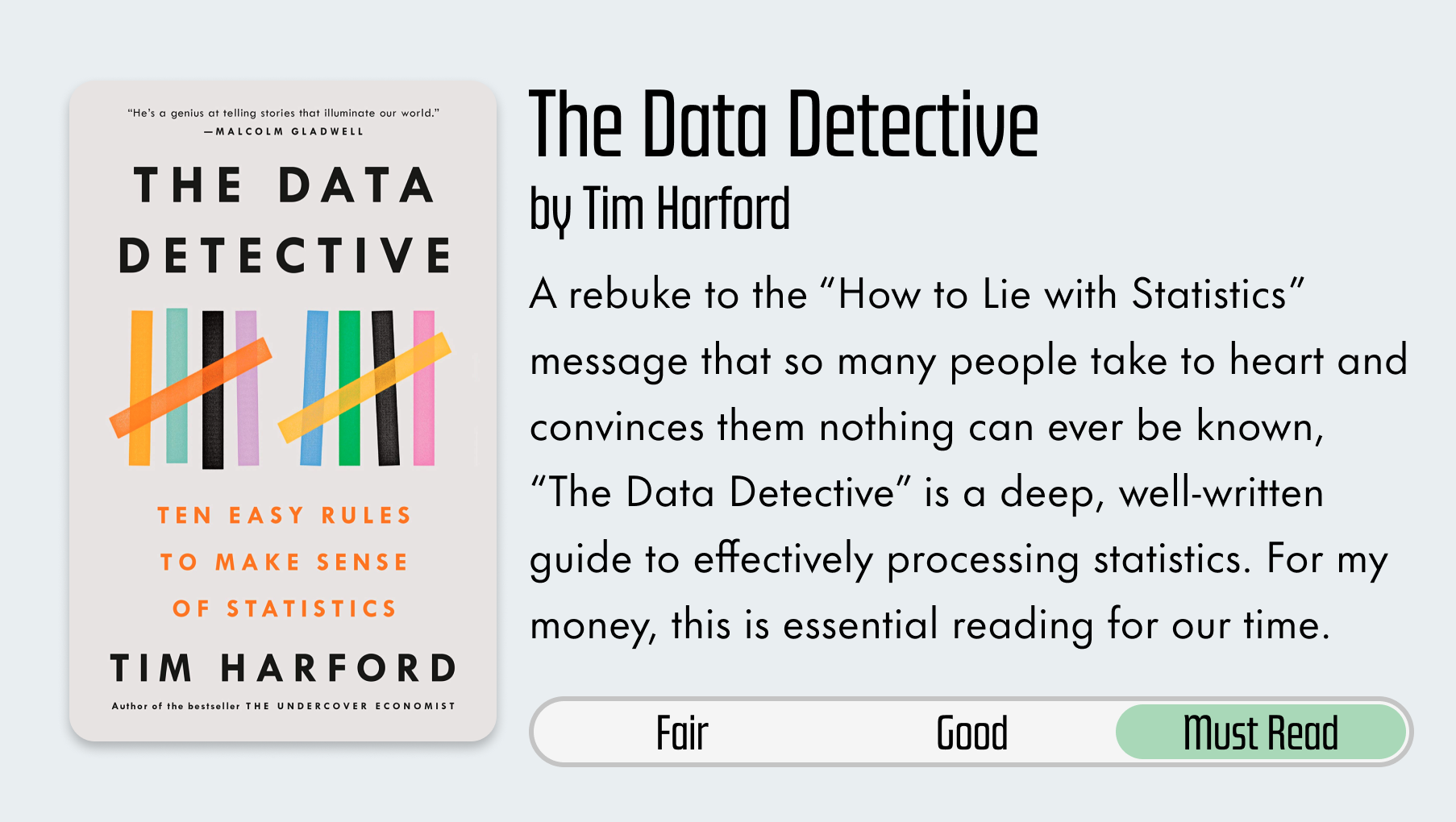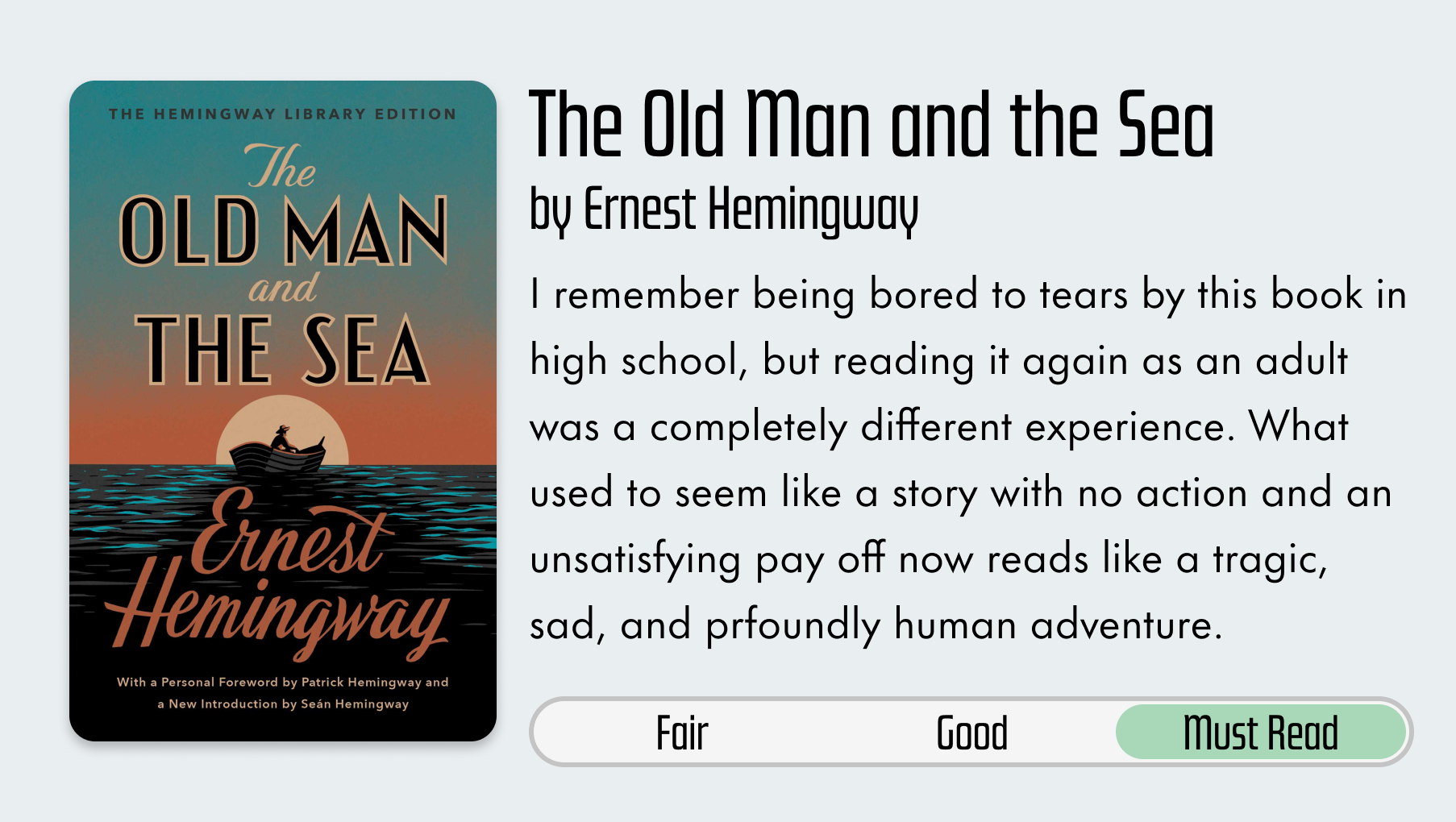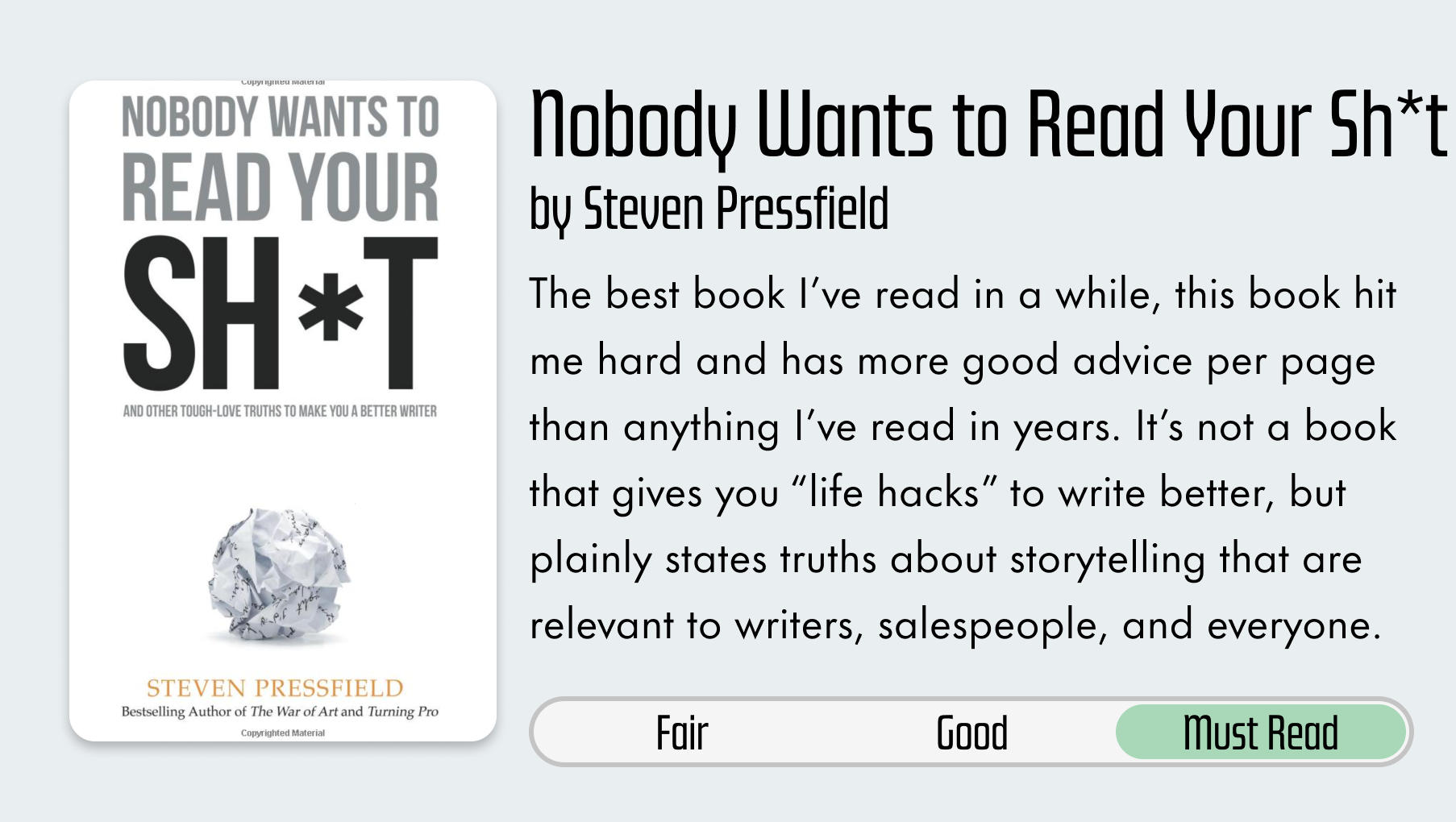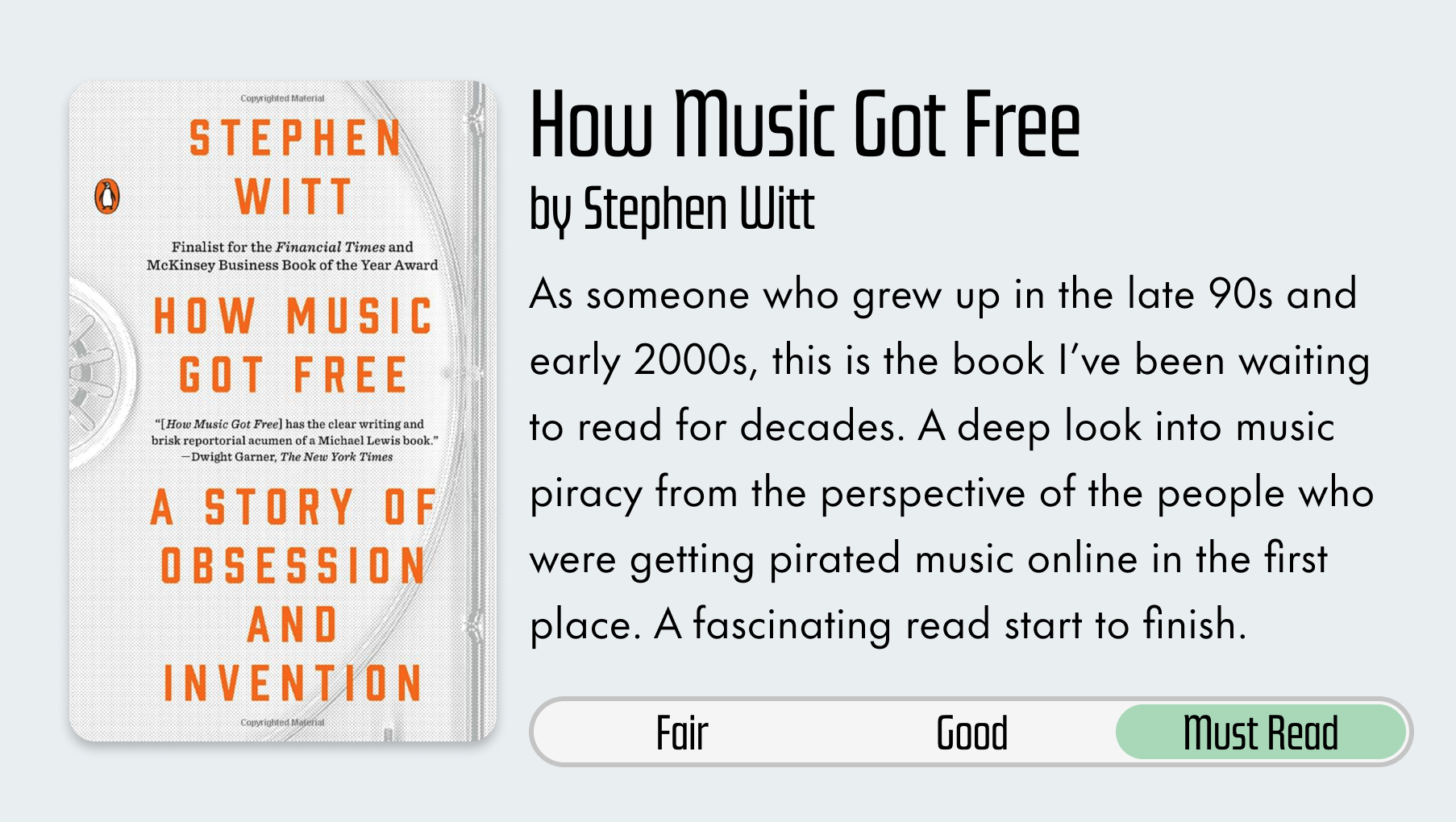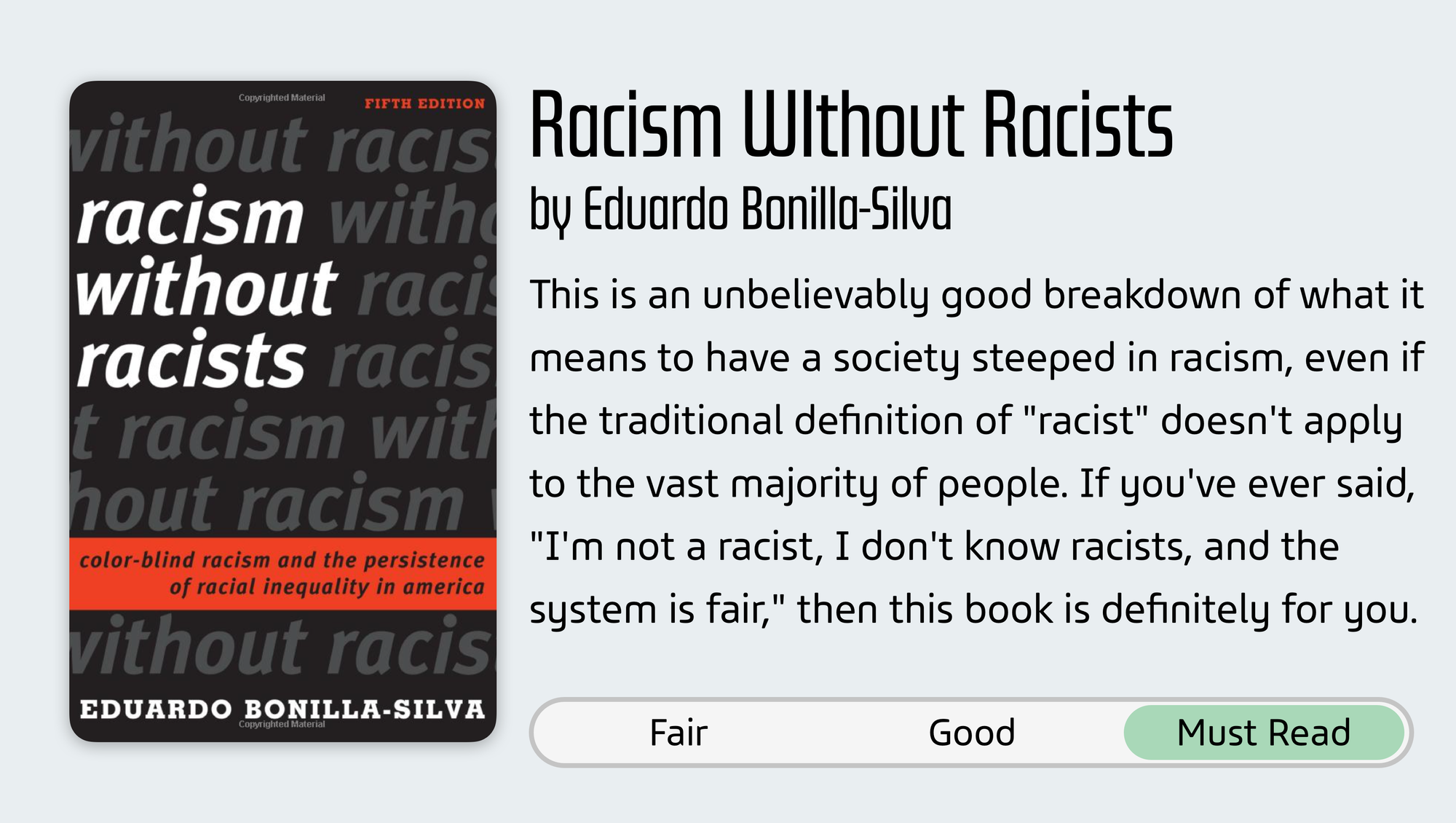 ---
Movies
Movies are always hard to do in December because so many good films are released this month and many others haven't hit VOD yet so I haven't been able to watch them. But of what I have been able to see this year, here are my standouts.
Dune
A story that I've always seen as boring was finally brought to life in a way that got me on board.
Luca
Basically Call My By Your Name, but with fish by Pixar.
Spencer
An absolute pressure-cooker of a film, Spencer is anything but a biopic, and it's all the better for it.
Inside
Bo Burnham's self-made comedy film is funny, catchy, and from a production perspective, just damn impressive. I wasn't a fan of Bo before this, and I still don't love his earlier work, but this was lightning in a bottle and I'm so glad he made it.
The Fear Street Trilogy
This trilogy was released over 3 weekends on Netflix this summer and was an absolute blast if you have a soft spot in your heart for horror/slasher films.
Shang-Chi and the Legend of the Rings
I find it hard to love Marvel films, even though I do usually like them, and Shang-Chi makes my list mostly for being a good film, but getting bonus points for not bundling in a bunch of other Marvel heroes in an Avengers-lite story that so many others turn into.
---
TV Shows
Midnight Mass
From the creator of The Haunting of Hill House comes a new miniseries about a small New England island town that has a new preacher come to town and things get…creepy. Go in knowing as little as possible, but this show really sucks you in.
Game of Thrones
Ok, so not a 2021 release, but I rewatched the whole series this summer and good lord is it a masterful story. The show is mostly brilliant, from script to actors to production quality. Even the later seasons which get a bad rap have some of the most powerful moments and memorable episodes in the series. Season 7 is kinda dumb and 8 is unforgivable, but the overall journey was well worth it all.
Formula 1: Drive to Survive
If you don't care at all about F1 racing but want to pick up a new sport, then watch this show. It is a documentary series following the 2018-2020 F1 seasons (over 3 10 episode series on Netflix), they're given incredible access to everything, and the production quality and editing come together to tell a compelling story of what happened each year.
---
Music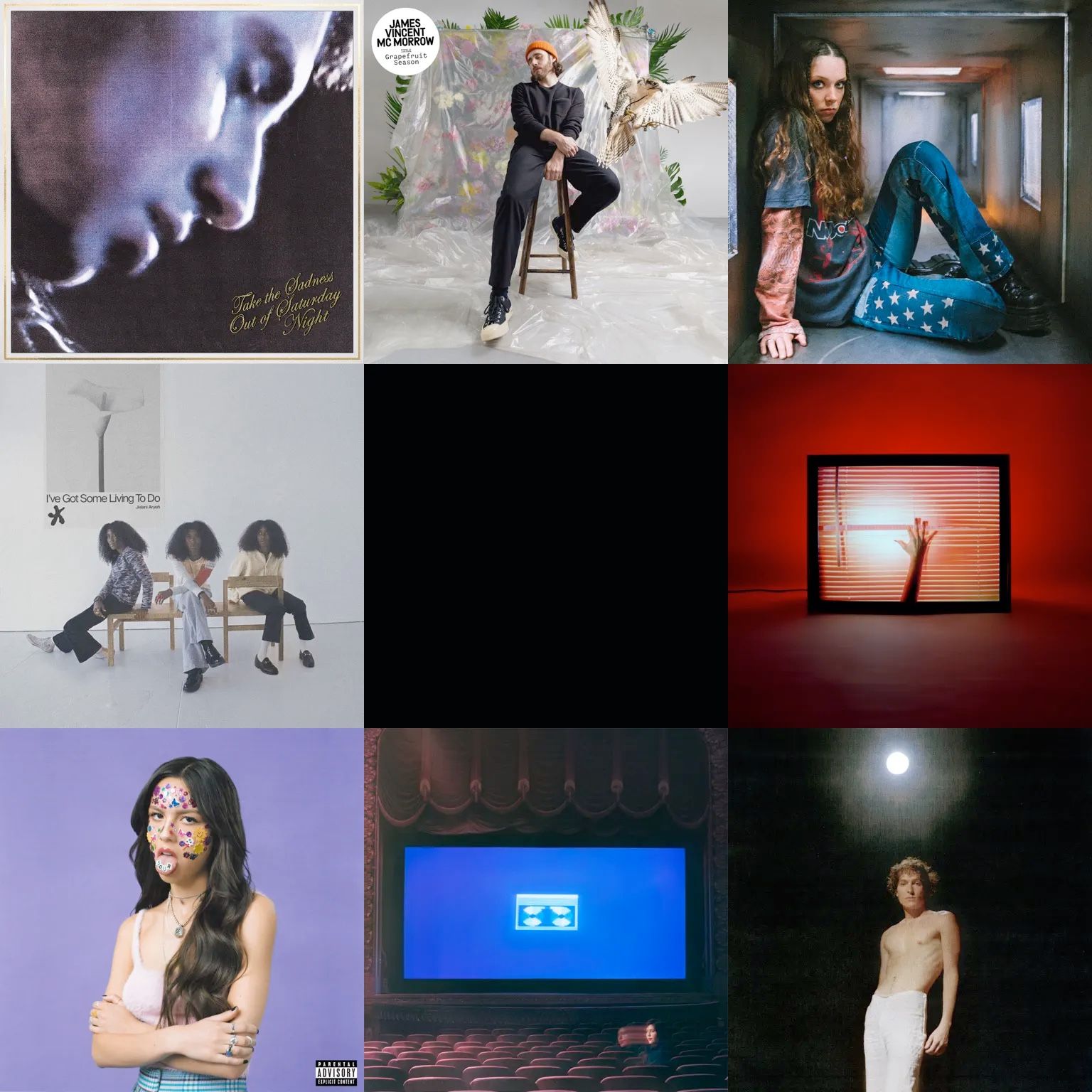 I always struggle to talk about music, so instead here's my 9 favorite records and a playlist with a killer track from each. Enjoy!
---
Podcasts
---
YouTube Channels
---
The Best Tweet of the Year
pixelatedboat aka "mr tweets" on Twitter
And here's the image in case the tweet ever goes away.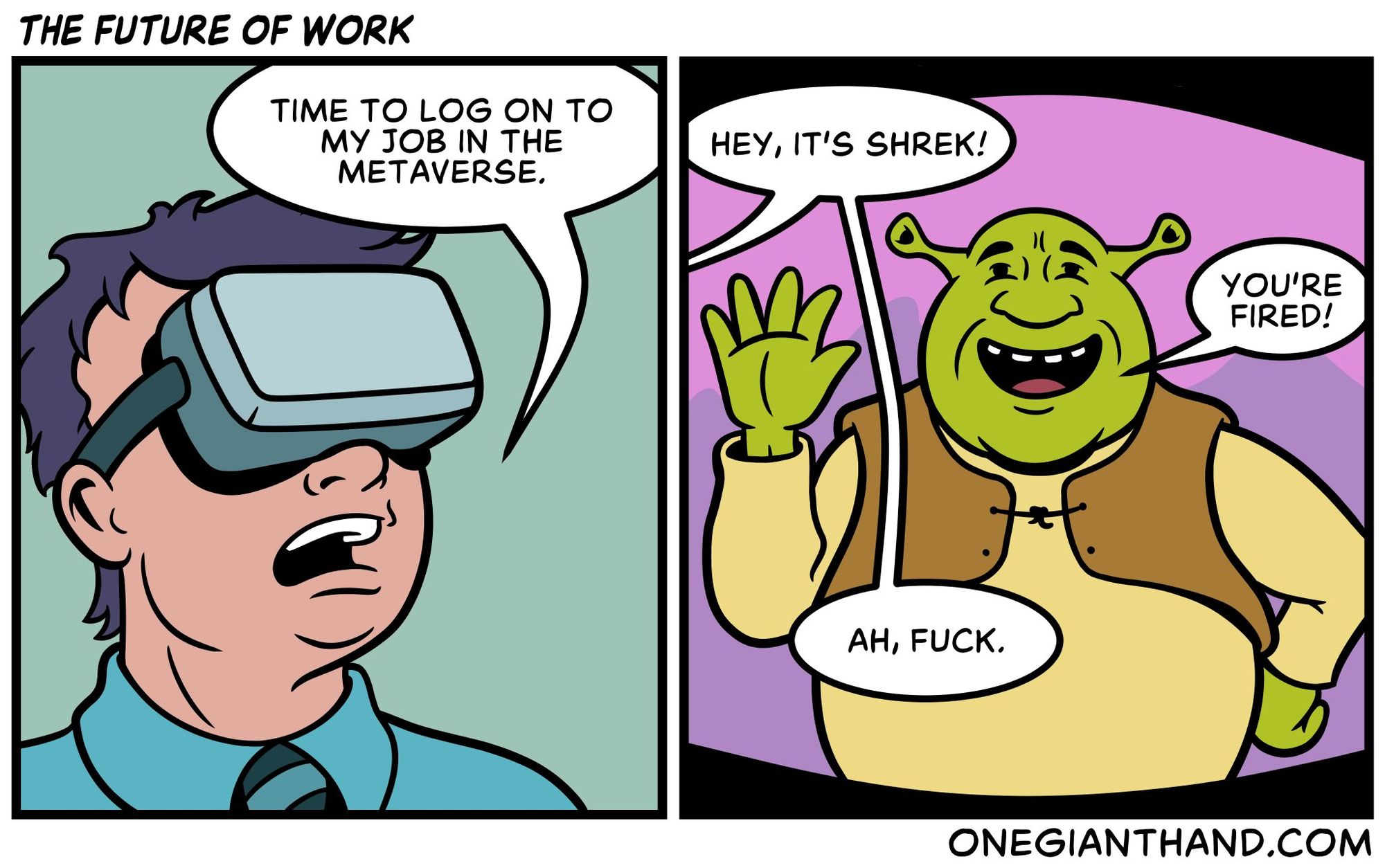 ---
Newsletters
Newsletters are a tough thing, but there are a few that stand out to me.
Stratechery
Ben Thompson does great work, and his analysis comes from a perspective I don't personally explore on my own, so it's always interesting to hear his takes on the tech news of the day.
Ben gets bonus points for turning every single issue into a podcast within a few hours of the email going out, so this actually feels more like a podcast to me at this point.
Platformer
The only other newsletter I pay for, Casey Newton has run an absolute clinic over the past year on what it means to write a consistent, interesting, and shockingly lengthy newsletter basically every day.
Galaxy Brain
I've been reading Ben and Casey for a long time, but Charlie Warzel was new to me this year and his Galaxy Brain newsletter has been an instant-read for me every time it drops into my inbox.
Your Local Epidemiologist
I'm not a scientist, which is why I really appreciate scientists who are able to communicate complex topics clearly, and Katelyn Jetelina does this exceptionally well.