How I Use Things 3 to Keep Track of Christmas Shopping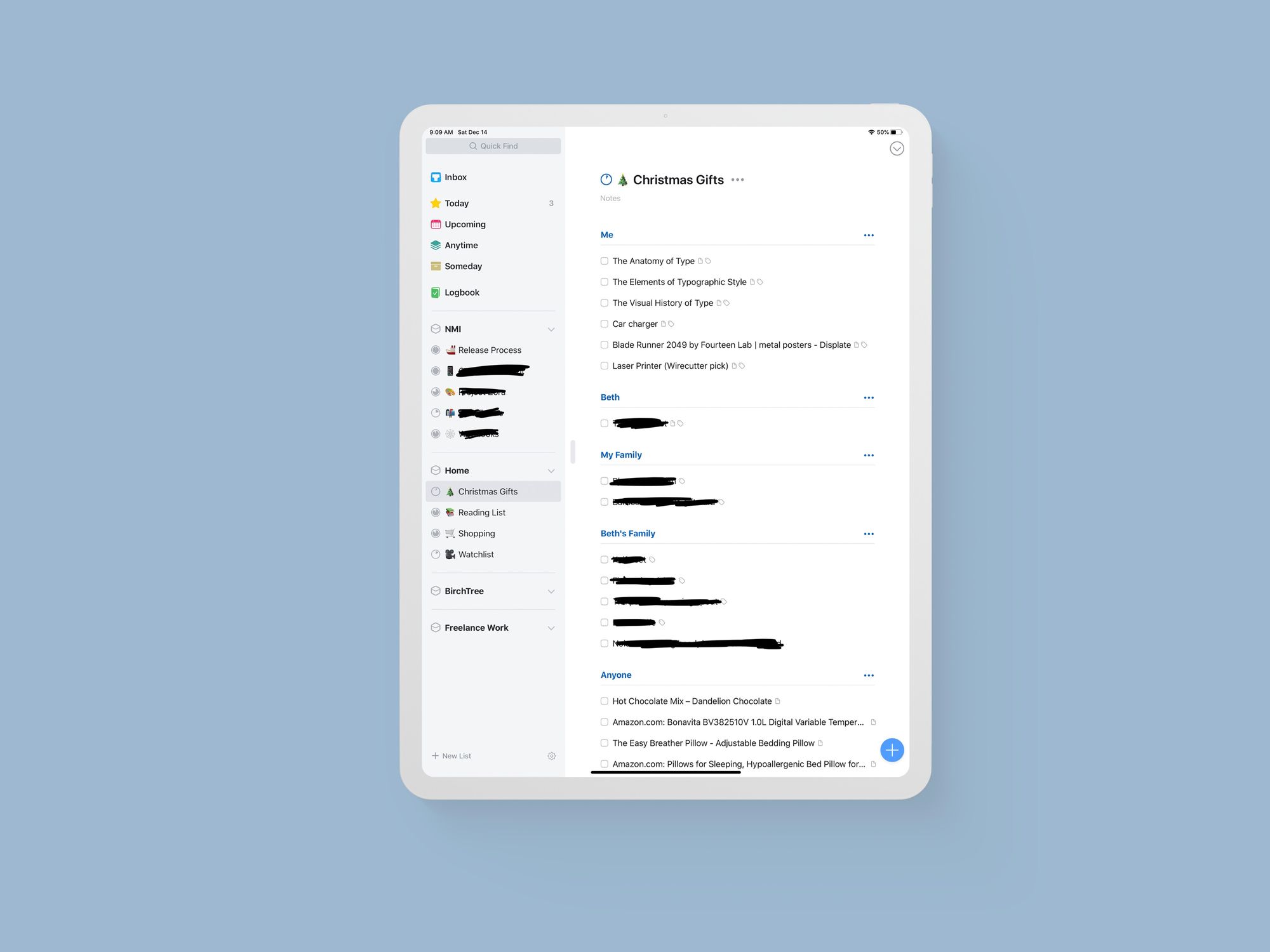 One of the things I struggle with year after year is keeping track of Christmas gift lists. I never know what to ask other people to get me, and I have never been good about keeping track of what I think other people would like. The latter part is especially frustrating because I have plenty of moments of "they would love this!" throughout the months leading up to Christmas, but when it comes time to actually buy gifts, I can never remember.
Sometimes these ideas go into Apple Notes, or Drafts, or worst of all, my memory. If GTD has taught me anything, it's that my head is not a good place to keep track of lists of things I need to remember: I need a system to offload my brain.
My revitalized integration of GTD throughout my life this year has given me a new idea this year and it's working out incredibly well for me. This might sound less magical to some people, but buying Christmas gifts is really just a project and the gift ideas are tasks in that project, so putting them into a GTD system makes a ton of sense.
Introducing Things 3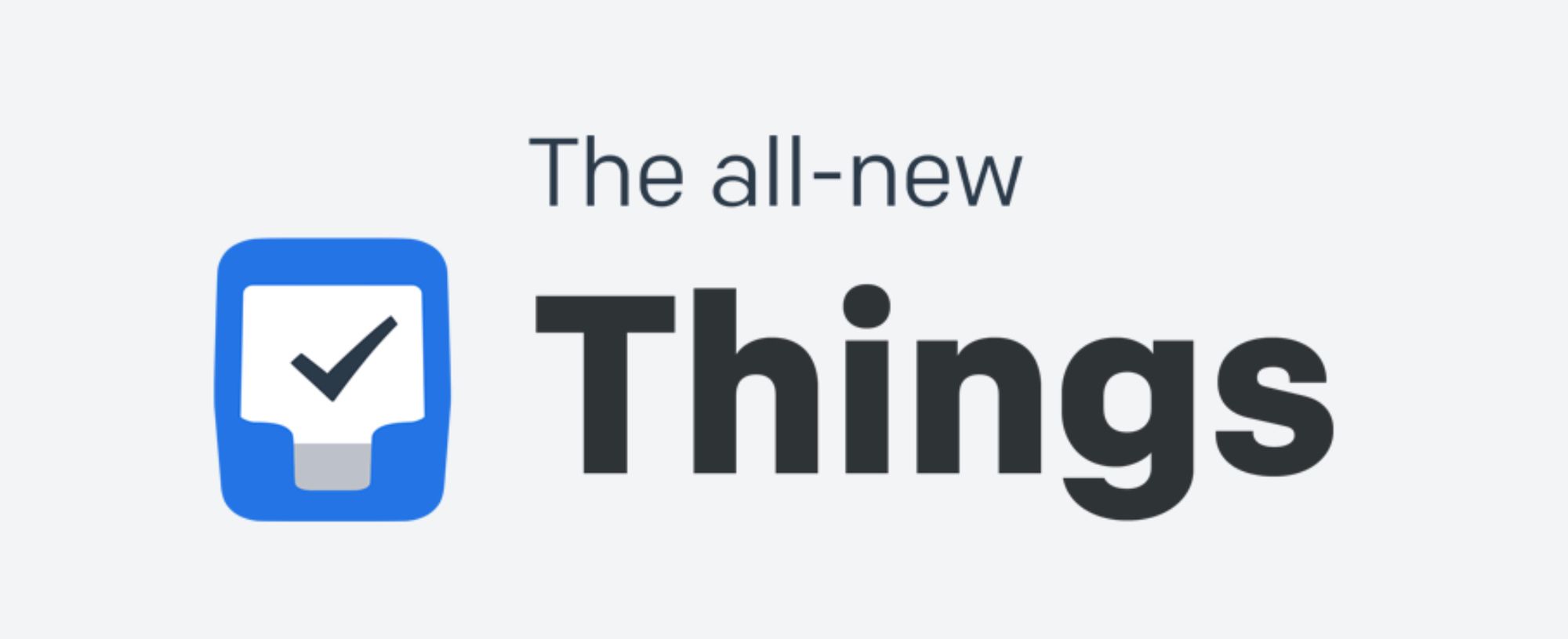 You could do this with any app or paper-based task management system, but I think Things 3 has tools that make this a really nice experience. Step 1 is creating a project called Christmas Gifts. If you want to have some fun, throw a 🎄 or 🎁 in the project name too.
Headers Make Sense of Large Lists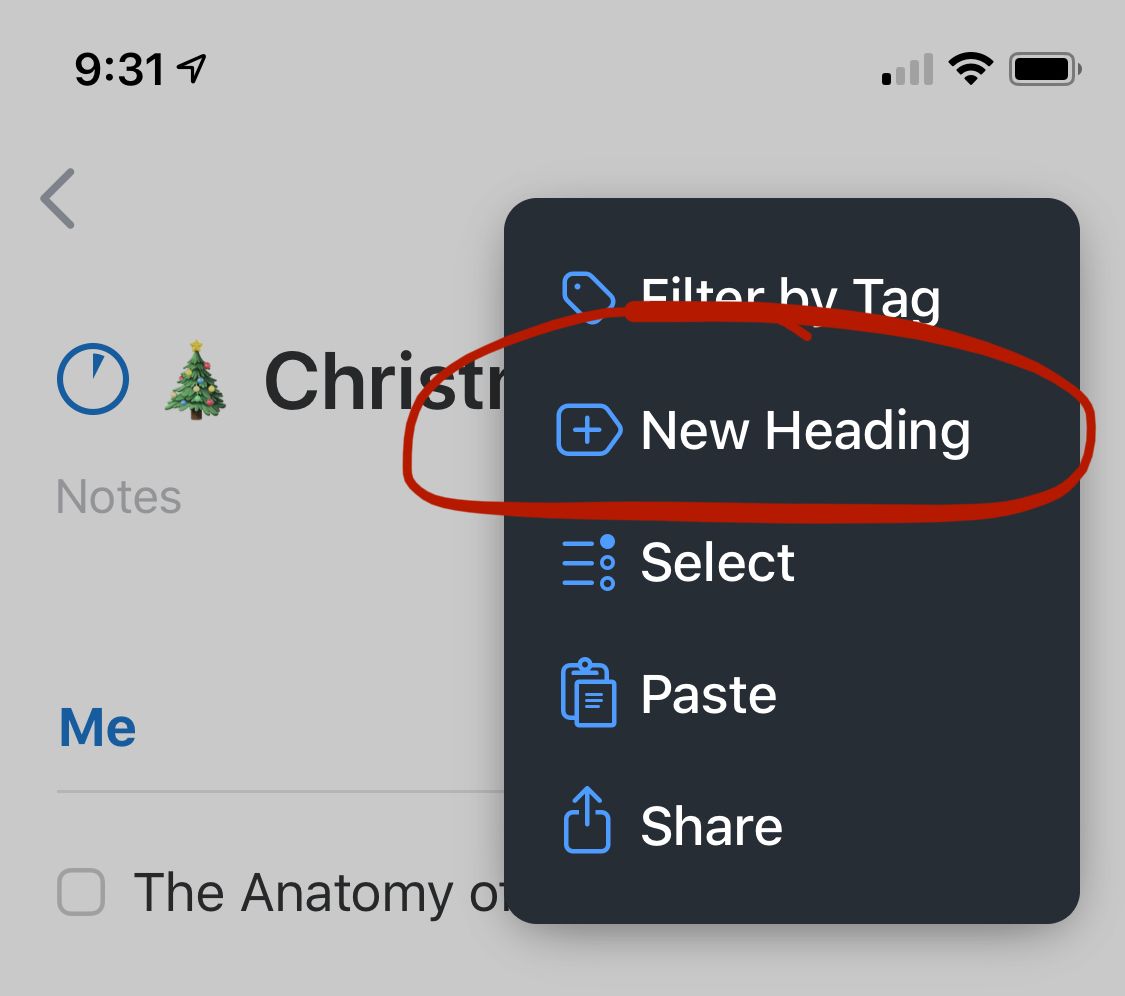 From there, you want to use Things' headings feature which you can access by tapping on the three dots icon at the top right of the project view. I used these to create sections inside the project for different people. I have ones for:
Me
My wife
My immediate family
My wife's immediate family
General gift ideas
As I come across things that I think certain people would like, I add them as tasks in this project and drag them to whatever section they belong in.
Link 'em, Tag 'em

And because Things lets you add notes and tags to tasks, I make sure to add a link to the item and tag it with the specific person I had in mind for it. Things will not automatically sort this project page based on your tags, so you still need to manually sort stuff, but unless you're buying for a ton of people, I don't think it's too much of a hassle.
Sharing Things I Want
Things very kindly lets you copy a task from the app and paste it into anything else as plain text. It brings over the task name (product name), the notes (link to the product), and tags (who it's for). So when my dad, for example, asked me for a list of gift ideas, I just selected the half dozen tasks in my "Me" section, hit CMD+C on the iPad keyboard, and pasted them into an email.
I removed the tags because that wasn't really important for him, but the information was all there and it was very little work to format it nicely in my email app.
Marking Stuff Complete
Collecting the information is easy enough, and organizing it is pretty simple, but here's where it gets really nice for me. Since these are tasks, you can treat them like action items in your existing task management system. I tend to buy gifts over the course of a few months and the monthly budget only allows for some things to be purchased at once.
So to stagger my purchases throughout the season, I start assigning due dates to items on the list. This lets me stick to a budget and get everything on my lists for other people without breaking the budget.
Also, because these are tasks and Things does a good job of showing you what you have previously completed, I can easily look at my previously completed tasks to see what I've bought already.
Other Apps
There is no reason you could not do this in Todoist, OmniFocus, or any other task manager out there, but Things is what I use right now and I think it has the best UI for sorting out tasks for something like this. I'd love to hear if you are doing anything like this, and if you are using another app like Todoist, I'd be really interested to see your setup.