What Will Apple's HomePod with a Screen Look Like?
Parker Ortolani has this cool concept on 9to5Mac:
Rumors have been floated about Apple making a HomePod with a display but word on the street is that the product being tested looks a lot like an iPad mounted to a speaker. Instead of making a Frankenstein product very similar to Google and Amazon's products, they should take the blueprint they've laid out with HomePod mini and use it as a basis for a unique ambient smart display.
First off, I love Parker's work, and this mock up is no different. Second, I think this is a quality one since it (a) doesn't just copy/paste another company's product and put an Apple logo on it, and (b) it takes things Apple already makes and merges them together.
I could see Apple making this product, but there is one potentially damning thing that would make this less useful than the "iPad mini glued to a speaker" idea most people have in their heads: size.
These voice assistants, both screened and screen-free, are usually used from a distance, so legibility for a screen is directly tied to screen size. The examples in the concept look solid, but how these scale to the many uses of a product like this leave me a little skeptical.
For example, timers are a core function of smart speakers, and being able to read these from across the kitchen is important. Below is an idea for how an in-progress timer could look on this screen if the goal was to optimize for legibility.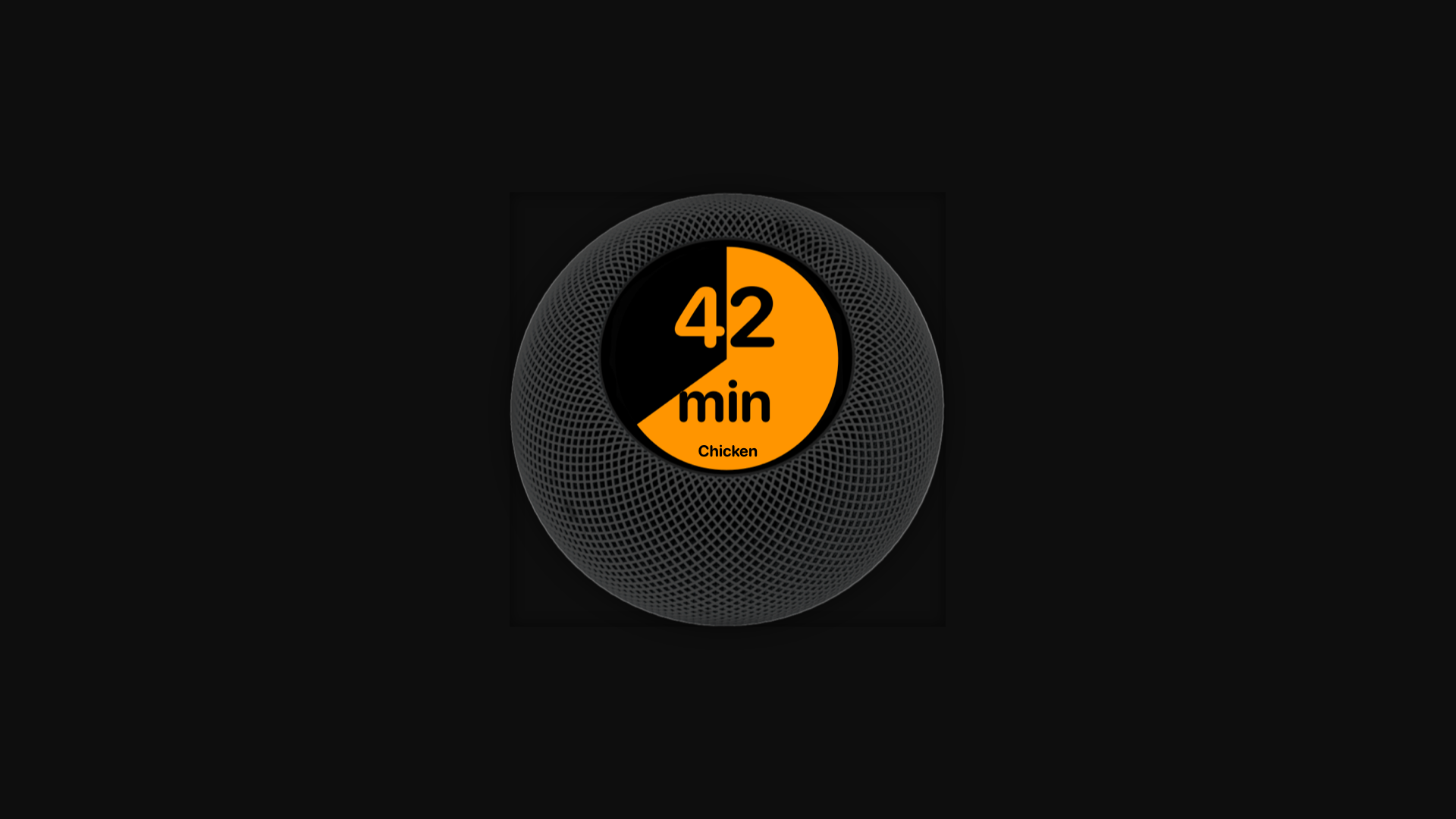 Still small, but maybe doable for those with good eyesight. The name of the timer is super small, but still, maybe it's good enough.
But the HomePod supports multiple timers, so how would those work? Maybe they're all full-screen, but you swipe to switch between them. That could technically work, but in my opinion it's a regression in utility from the Google Home Hub I have in my kitchen, which can show up to 4 timers on screen (name and all) at once, and it's super useful.
This is not meant to be a dig on Parker's concept, I think it's pretty great, I just do wonder about the practicality of this sort of product. I totally get the "Apple doesn't need to do exactly the same thing as others" feeling, but it's always good to consider when we're in too-clever-for-their-own-good territory. Maybe this solution is brilliant and Apple will even do it, but I'm a bit skeptical of such a small screen solving the problems that the current Google/Amazon offerings solve.