Microsoft Surface Go Review: Hardware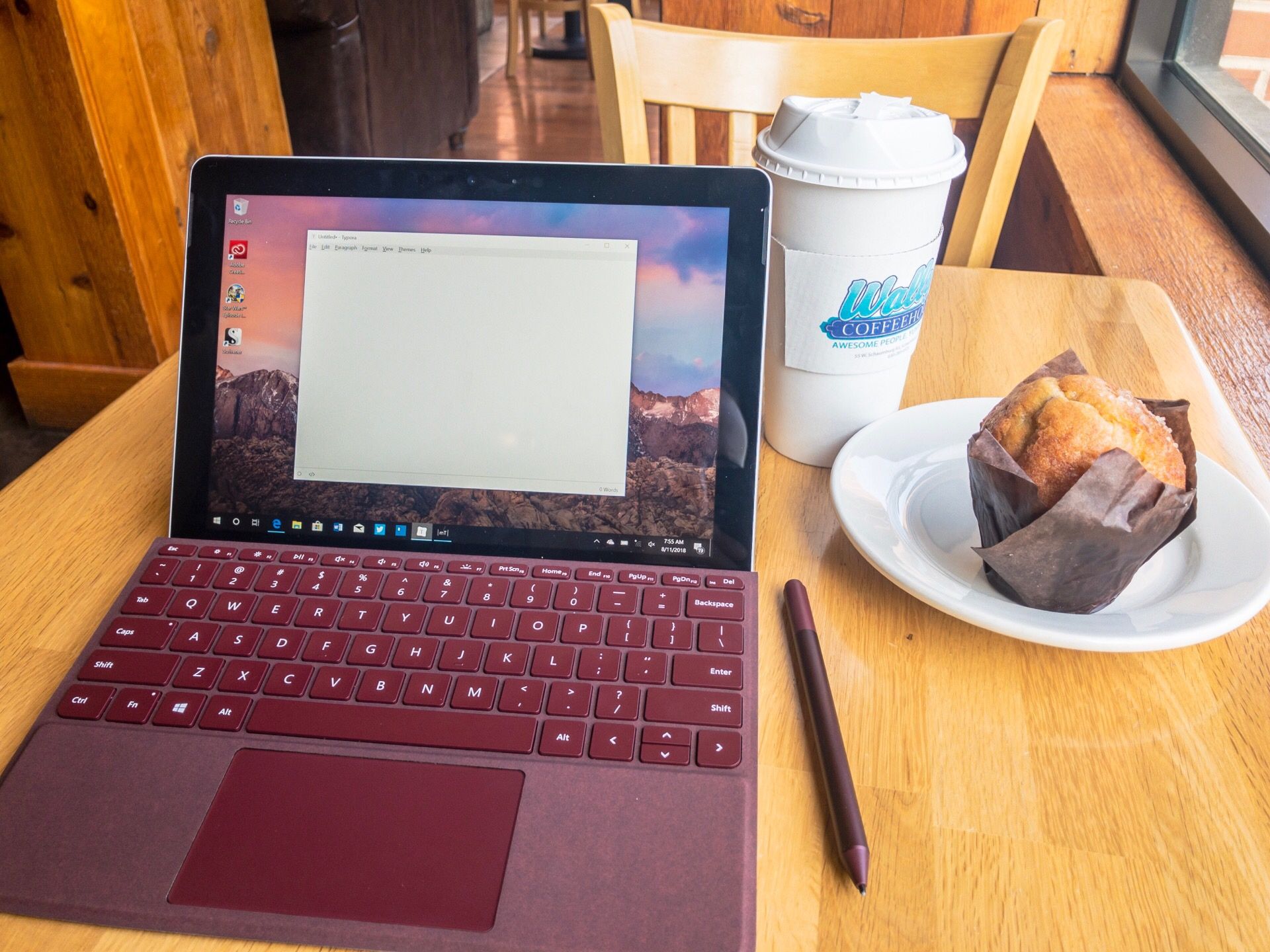 This is a multi-part review. Make sure to check the whole thing out with the links below!
---
Easily the most impressive thing about the Surface Go is its hardware. Everything about this device feel premium, and is way nicer than any other sub-$500 computer I've used in my life in the PC space. Now, the iPad is less expensive and just as premium, if not more in some ways, but for PC, this is as good as it gets. Hell, even if this was a $900 tablet, I'd say the exact same thing: this tablet is awesome to handle.
The Surface Go has a magnesium case that feels really good to the touch. It just feels premium in the same way that Apple products always have that special "something" that makes them feel a cut above the rest. I really like it to say the least.
Inputs Are Excellent
In terms of inputs, there is:
1 USB-C port
1 Surface Connector
1 headphone jack
1 Type Cover connector
1 micro-SD card slot
That's a bit more than the iPad Pro, and it might even be more than your Mac. This is a decent number of ports for a tablet, but I never found they got in the way at all. They're all well cut into the device and don't make themselves notifiable in general use.
The USB-C port works for connecting accessories, powering the device, or acting as a display out port. I typically use it for that last reason, docking the device in my 27" HP display and treating it like a desktop computer when that makes sense. I love this ability and I wish it was something I could do with my iPad Pro. It's worth noting this is not a Thunderbolt port as well, but that's expected on such a low cost device.
The Surface Connector is something I've only ever used for charging, but you can also use it with the Surface Dock which gives you many more ports, if that's the sort of thing you need. Even if you just use it for charging, it's more than capable, charging the Go quite quickly. I wasn't able to get any exact times, but as an iPad Pro user, it seemed about the same to me as what I was used to. Oh, and it's a magnetic connector that pops out with a tug, so MagSafe fans will like this.
The headphone jack...works, and the Type Cover connector works wonderfully, and I'll talk about that in the next part of the review.
Finally, the micro-SD slot is nicely tucked away beneath the kickstand and you don't even notice it's there. I have the 64GB model, which can fill up very fast, especially since Windows takes up a lot of that on its own, so adding a 128GB card for about $30 off Amazon seemed like a good call. I've installed a few apps and games to it and it works fine for me. It's just another internal drive and you can set apps and games to install to it by default instead of the small internal drive. I'm glad it's there.
Battery Life Struggles...Hard
That quick charge from the Surface Connector good to have, because the Surface Go does not get very good battery life. Just now, as I'm writing my review and have Edge and a text editor open, my 65% battery life is going to get me just 2 hours and 19 minutes. Not only that, I find that when the computer says I have 20 minutes left, I actually have less than one minute left. This is a far cry from the 8 hours that many modern laptops get, and the 10+ hours that a modern iPad gets.
I really think the culprit here is more the operating system than the tablet's battery itself, as Windows is just a much heavier operating system than we we have in something like iOS on the iPad. But I said this wasn't going to be a review of Windows, so let's just leave it at: the Surface Go gets poor battery life, often about 4-5 hours tops.
The Kickstand is Wonderful
As I have written about numerous times, I'm a huge fan of the kickstand built into the Surface Go. I like that it's easy to use, it's well integrated into the device, and it makes it a more usable device in more situations.
At a core level, I love being able to stand the Surface Go at whatever angle I want, and I especially love being able to do this without having a case. I can just use the Surface Go "naked" and transition from handheld use, to standing it on a counter, to angling it down even more to draw on it, all without involving any accessories. This means I get more flexibility without needing to add any bulk in terms of a case or cover like I would on the iPad.
As a bonus, the stand works at any angle between 0 degrees (closed) and 165 degrees, which is basically every angle I could ever want. It holds firm in whatever angle I set and never drifts into another angle after time passes.
My only complaint is with how sharp the edge of the stand is. In order for the stand to be as invisible as possible on the device, Microsoft had to make it very thin; like 1 or 2 millimetres thin. While I find this to be good in most cases, it's not super comfortable on my lap, especially when wearing shorts. It really can dig into your legs after only a few minutes of use and is genuinely uncomfortable. If I'm wearing jeans, it's not a problem at all.
And because you're definitely curious, yes, it does work pretty well on my lap. It's really neck-and-neck with the Smart Keyboard with the iPad Pro in terms of how many angles it works with, which is to say most. But people who want a clamshell laptop's worth of flexibility will be a little let down. It does need to be treated a bit gingerly in a way a laptop doesn't. As someone who lives with an iPad and has no real issues, this wasn't a issue for me but it could be for you.
Windows Hello Gets the Job Done
This is diving a bit into Windows itself, but the Surface Go has a front-facing camera that can be used to unlock the device with your face. I do not have an iPhone X, so take this impression with a grain of salt.
The feature tends to work pretty fast, and is reliable enough that I have come to rely on it instead of my password most of the time. It probably works about 80-90% of the time, which isn't perfect, but it's decent. If this was my phone, I wouldn't find that good enough, but I unlock this thing maybe 5-10 times a day, so it's less of a hassle.
It seems to struggle the most when either in very dark or bright situations. It has yet to work outdoors for me (again, would be unacceptable for a phone), and while it's not perfect, it's surprisingly adept at getting me in the dark. I've been in the complete dark with only the Surface Go's screen illuminating me, and it worked.
The Cameras are...Yikes
As weird as it seems to many people, there are a ton of people who use their tablets to shoot photos, so one would hope the Surface Go had decent cameras on it. Sadly, this is by far the weakest part of the product.
There are 2 cameras here, one rear camera that shoots 8MP stills and 1080p video, while the front-facing one does 5MP stills and 1080p video, but only in Skype. Neither camera is good by tablet standards, but the front-facing one at least stacks up well compared to most laptops on the market.
I would love to do a full comparison, and I do plan on doing one on its own, but just know that if you want to get a device for doing Skype and Google Meet calls, this will do you quite well. If you are looking for something to take to your kid's school event, then this is going to leave you wanting way more and something like an iPad or definitely your phone will do you much better.
Here are a few simple (unmodified) examples:
The Speakers are Pretty Normal
Microsoft advertises "2W stereo speakers with Dolby® Audio™ Premium" and that translates to speakers that sound nice, but not amazing. Most things sound quite nice, although there is a major lack of low end sounds to my ears.
When I did side-by-side comparisons with a couple iPads and a MacBook Pro, it came out closest to the iPad (2017), which makes a lot of since as that is also the device closest in price and form factor.
The dual speakers are both 2/3 of the way up the bezels on the sides of the Surface Go. I didn't find my hands covering them often, and covering them purposely didn't totally block them out, it just made them a bit muffled. Sadly, they don't match up with the iPad Pro's 4 speaker array that shifts to make sure you are always hearing things in stereo, but since there are only 2 of them, they simply can't always be in the right place.
Overall, the speakers are totally acceptable and would only be a disappointment to an iPad Pro user who likes to crank it up, because the Go doesn't get nearly as loud or as full.
That Tablet is Thick! And Have You Seen Those Bezels?
So there are two things about the Surface Go that are going to stand out immediately to Apple fans, and those are the bezels and the overall thickness. I get it, but I've saved these for last because I honestly don't find them terribly annoying.
First, the bezels. These are definitely more iPad 2 size and not iPad Pro or even the current standard iPad. They're thick, yes, but I am kind of surprised how little I mind them. I notice them sometimes, and it would certainly be nicer if the screen was a tad bigger, but in general use I never even think about it. Full disclousre, I had to make an edit to this part of the review because I completely forgot to even talk about them!
Then there is the thickness, which is 8.3mm. By most standards, that's pretty thin, but the current iPad Pro is 6.1mm thick and the cheap iPad is 7.5mm. Especially compared to my daily driver, the iPad Pro, the 36% thicker Surface Go is noticibly more substantial in the hand (it's also 11% heavier than the Pro). But that also doesn't really bother me much at all. The difference is noticible, and when holding them next to each other the iPad is the clear winner in terms of form factor, but the Surface Go holds it's own just fine. When you consider that the Smart Keyboard then adds more thickness than the Surface Type Cover, they end up being almost the same thickness when each is folded up with their keyboards.
These may be concerns for some people, but they have not bothered me in any meaningful way.
Takeaway
The hardware on the Surface Go feels like it's punching above its weight class most of the time. The build quality is plainly excellent, and there are plenty of specific features that are very, very nice. The kickstand (ahem) stands out to me as a big win for this device, and I really want to see Apple add this to the iPad.
If you know what you're getting into in terms of performance (see the next part of this review) and Windows in general, then I can't imagine many people being let down by this overall package. The cameras and battery are the worst aspects, but the overall package is quite appealing.